Posted on August 5th, 2015
The light of the "midnight sun" guided me home.
Every interesting excursion is coming to an end and so ended my journey to the Rhone glacier. On my way back to my car I shot a last panorama with two images down to the Valais valley and directly into the sun, pardon the moon.
It was one day before the fullmoon and the moon light was so bright I could walk without any additional light, but I didn't it for my safety
The nice thing about bright moonlight nights are, you can shoot with a low ISO setting and you will get smooth and noiseless images.
Let us close the story of my adventure at the Rhone glacier with this image and see what the next excursion brings.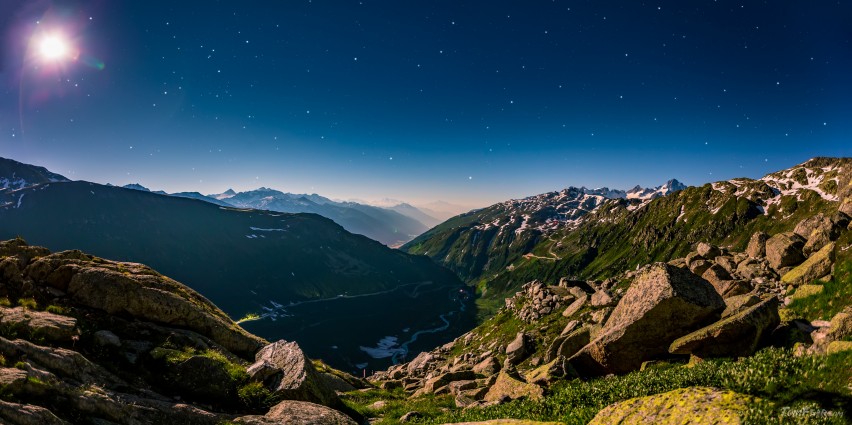 Posted on August 3rd, 2015
You should have the view to the Furkapass.
This suggests the name of the hotel, but I'm watching in the other direction and so I can't see the Furkapass.
I'm now on my way back home, after I spent the half night in the middle of the alps at the impressive Rhone glacier. And like usually I couldn't resist having more stops to take more images. This beautiful clear night is inviting me to take more images.
And so you can not see now the Furkapass, where I come from, but because the air is so clear, we can see far away at the horizon the Oberalppass to the Surselva in the Kanton Graubuenden.