Posted on April 30th, 2014
If you are near Las Vegas, you should go to the small State Park called "Valley of Fire". You will find beautiful stone formations. This specific one is called "The Wave". Unfortunately I was too early in the park and the sun was high in the sky. The better time will be short before sunset, when the sun brings more color and longer shadows to the stones.
It is a smaller State Park and not a National Park, but the landscape is really awesome! Here is the official homepage: http://parks.nv.gov/parks/valley-of-fire-state-park/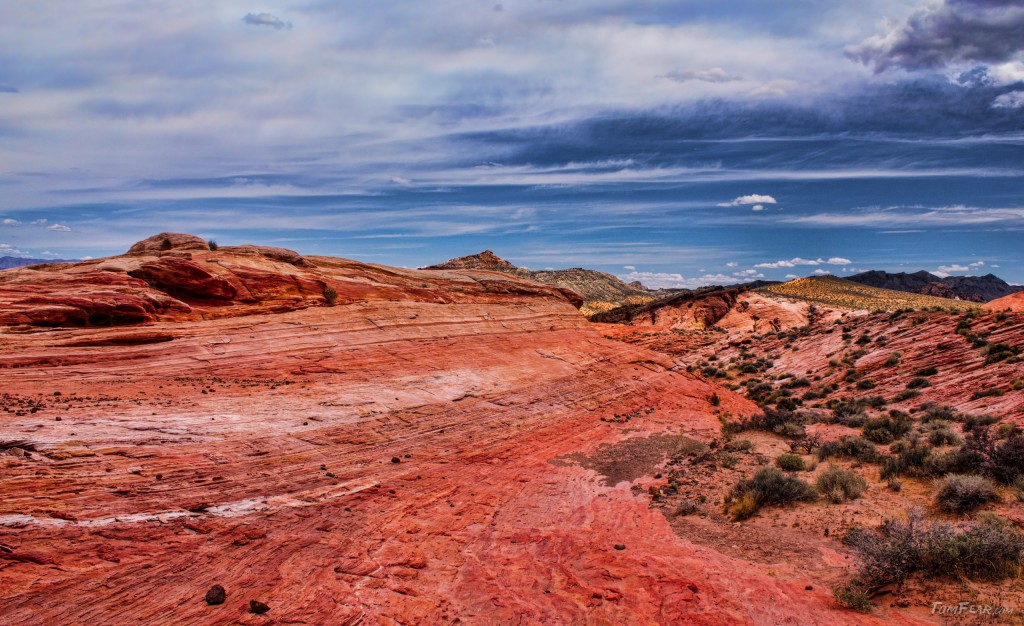 Posted on April 29th, 2014
Look at this! Isn't it cute? It's a nephew of Bubu, you know Bubu my dog. So small and inocent was Bubu too and now? He is bigger and I think he is still a cute dog, until he's running away.
And watch the blue eyes of the little wouwou, they will change it later to another color, this is very interesting. This tiny doggy is only a few weeks old and already so curious to the big wide world.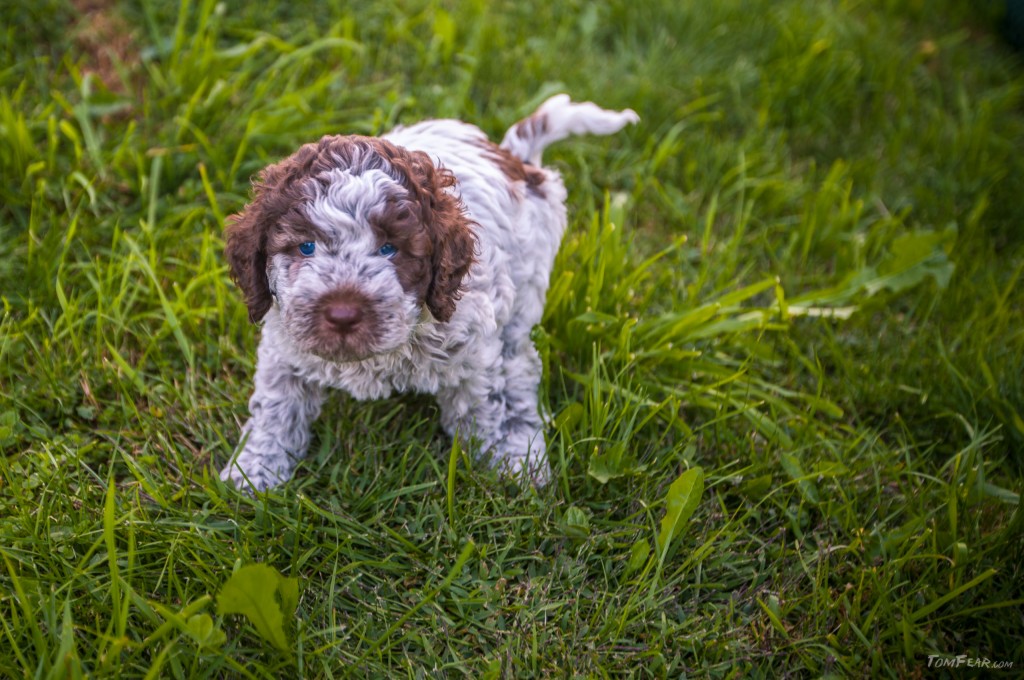 Posted on April 28th, 2014
I found this colorful flower in a grainfield. It's maybe weet, but it looks pretty between the yellow grain.
For this image I used a 100mm macrolens to get a soft fore- and background. It was late in the evening and sun was nearly at the horizon. This was helpful to get powerful colors. More I can't say to this image, therefore I shut up and you can enjoy the image.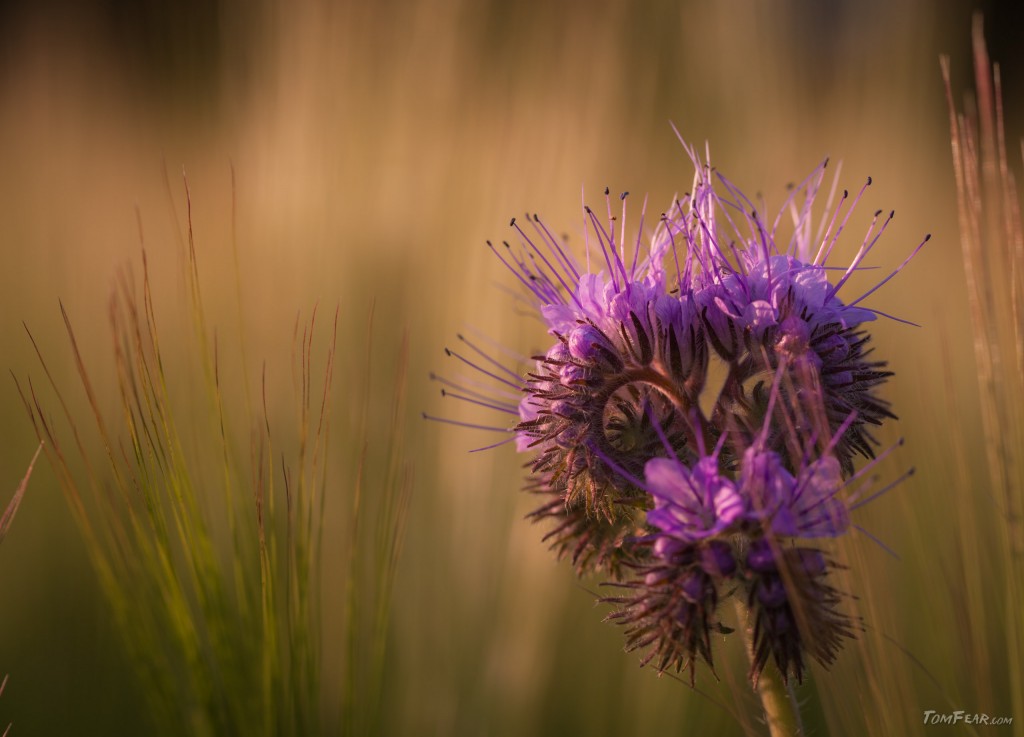 Posted on April 26th, 2014
Why sheep mountain? I don't know why, they called this mountain 'Schafsberg'. This is one of my first nightshot with only two images.  I used an astronomical tracking and so I could make an image with an exposure time of 120 seconds. Therefore I could shoot with only 800 ISO and I get a much more crisp image, with a lots of details in the landscape.
Ah btw, this is the same place where I had wet feet last time. But this time I was wearing better shoes and there was anyway no snow anymore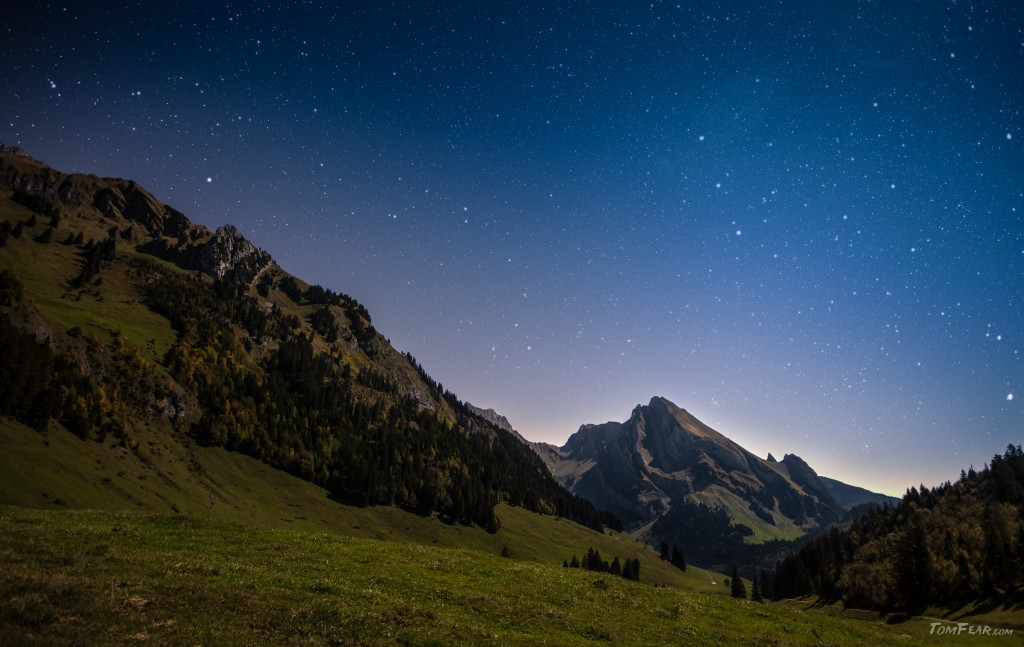 Posted on April 25th, 2014
It was a cold winter night, I was lying in the snow on the top of a mountain, ready to take some starscape images of the alps. As suddenly behind me a chatter was going on.
I thought to me, what's going on and turned me around and saw a bunch of people. And you won't beliefe it, they were folding out their parachutes and not a long time later the first crazy guy was starting and left the peak on the air. There must be about 30 paragliders up there and all of 'em took the way back over the air.
Oh boy, and I thought I am the crazy guy, at night on the peaks with my heavy photo gear, how I was wrong.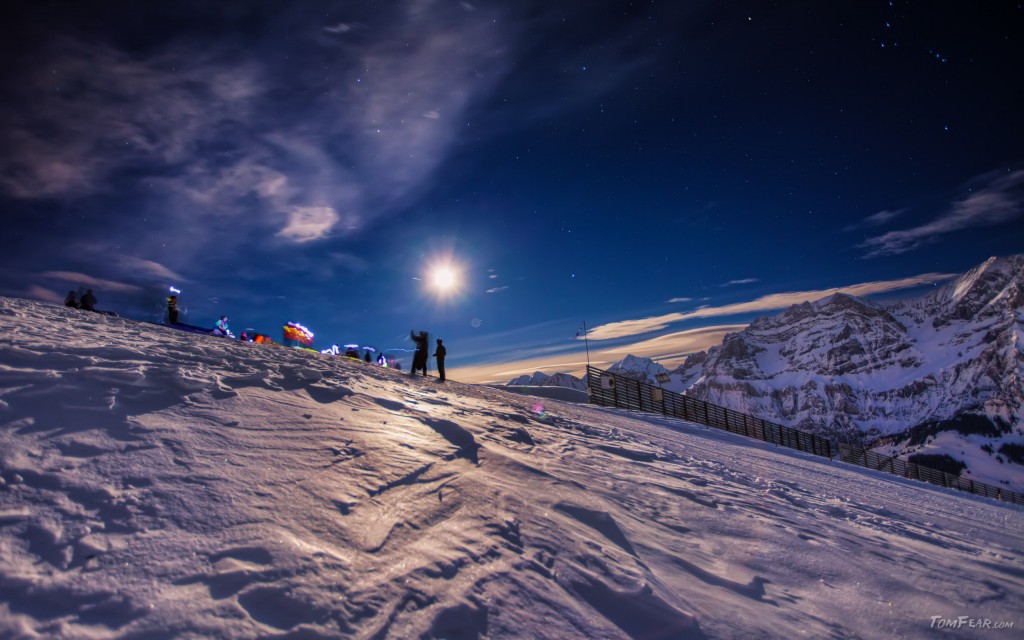 Posted on April 24th, 2014
Once upon a time in the morning Bubu  told, that he need to hike. So okay, I packed him in the trunk and drove to the cable car station in Adelboden, took the a ride up and we walked several hours around and enjoyed the beautiful alpine landscape.
The dangerous part is, what's going on in the small head of Bubu. One moment not intent and the small guy is on a journey.  And this was such a moment; should I or should I not…
This moment was coming later after he saw a mountain lake. But at the end of this walking, small Bubu was really finished.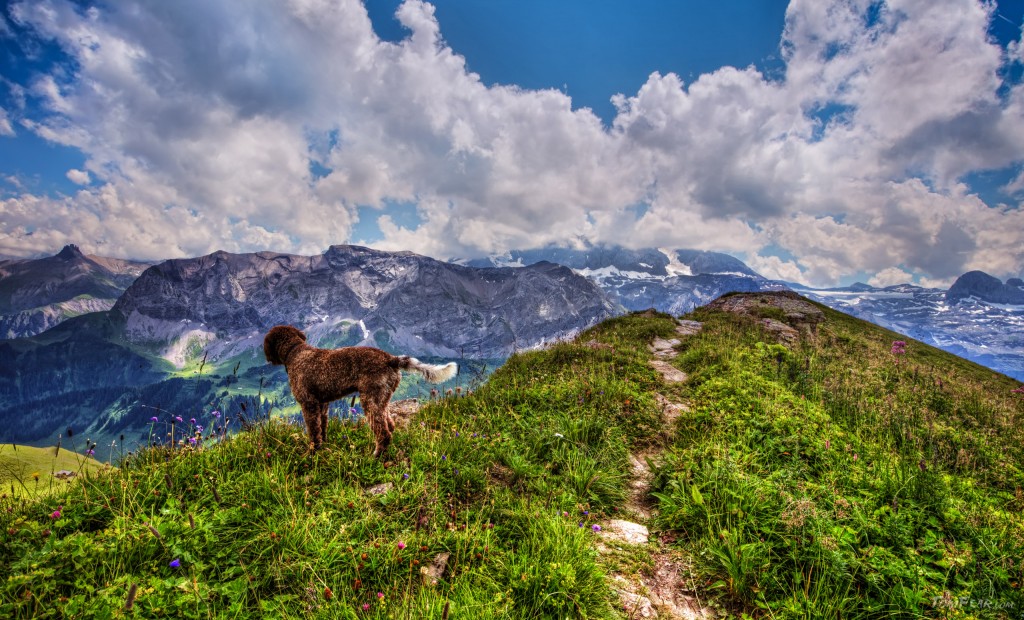 Posted on April 23rd, 2014
To reach this piece of earth you have to drive a long distance through the mountains or you take the ferry. It's the end of the large Lysefjord and called Lysebotn. If the weather conditions are good, then you can see some spectacular views from the top of the pass. As we reached the top one day before, the fog was so thick you couldn't see the balustrade outside the windows of the restaurant.
Short after I shot this picture, we took the ferry and left this peaceful valley on our journey through Norway.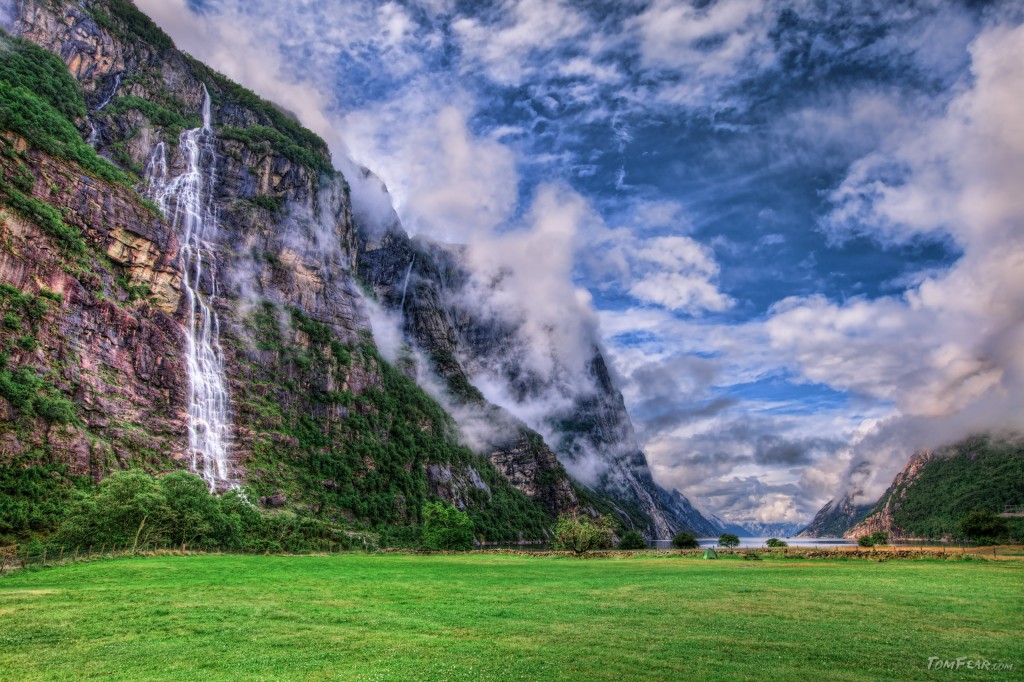 Posted on April 22nd, 2014
And there are the bombers back again. With a loud hum flew this fluffy part past my ear and landed on the flower. The bumblebees are my favorite insects because they are so fluffy like my dog Bubu. Okay, I will not huddle them because they will sting me. But I like to watch an listen to them.
I hope I will catch some more fluffies with my camera this year, they are very camera shy.
Maybe I need more focal length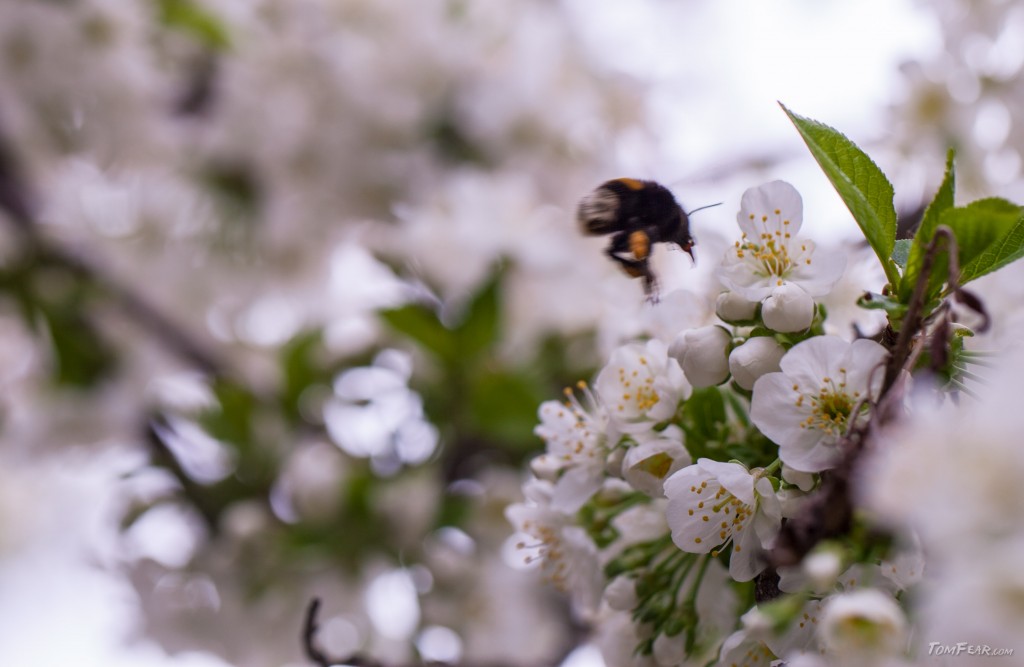 Posted on April 21st, 2014
Today short and simple: our satellite also called moon. If you want to take some moon shots, do it in the evening. If you are too late, either the moon is blown out or the sky is pitch dark. I like to take moonshots early enough to get some blue framing and more beautiful are thin clouds around the moon. This kind of cirrostratus clouds mostly I hate like athelete's foot, because at night especially with this bright moon, you will not see any stars only a white wall in the sky. But to shoot the moon, they are okay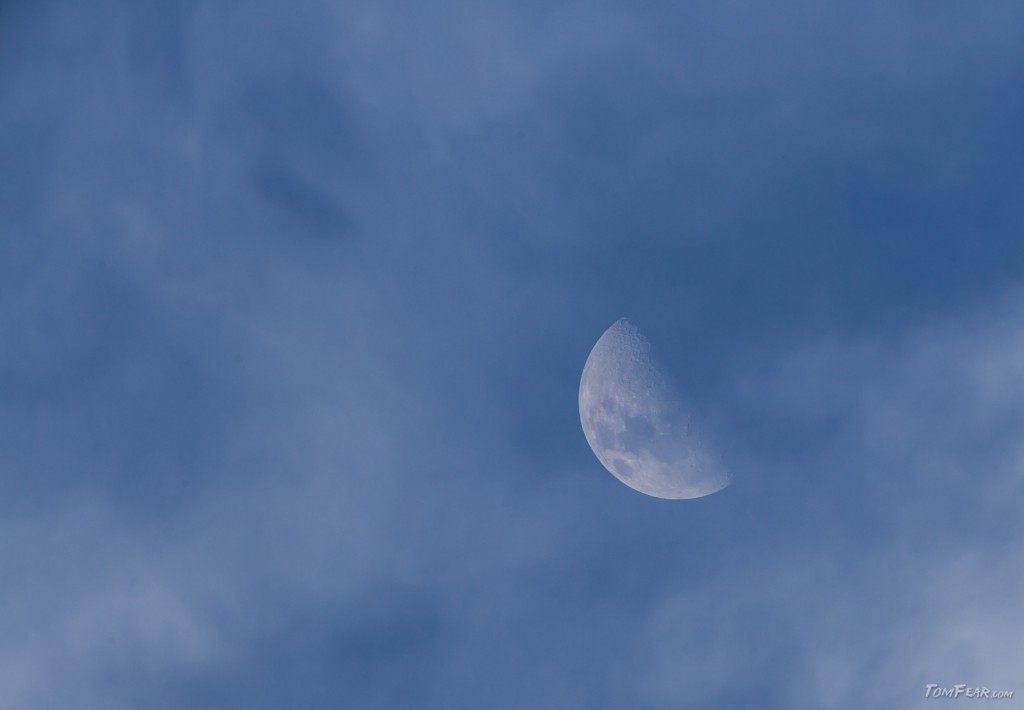 Posted on April 20th, 2014
I'm still in easter holiday and after all the cloudy nights without a chance to get some nightshots, I had to walk with Bubu in the rain. And the best part is, it doesn't rain everywhere, it rains only in the small side valley where I was walking with my dog, hmmm.
About the photo, where I shot two years ago. I was walking around to search good places for the portrait shooting of the bridal couple, when I found this sightseeing over Bensheim while the sun was just hide behind the horizon.
If you are lucky and the clouds are at the right position you can shoot nice sunsets everywhere. If there are no clouds you can have the best sightseeing and the sunset will not be spectacular. So don't hope for a cloudless sky, okay to much clouds are also bad…