Posted on Januar 29th, 2014
At a nice spring evening I was near this region and I thought why not take a rode deeper into the Toggenburg and shoot from a higher position an image with all this mountains at the background. What should I say, I did it :).
Unfortunately I was a bit to late to see all the peaks glowing by the deep standing sun. But look at this beatiful landscape with the awesome lightning. It was definitly worth it to run up this hill to get a picture.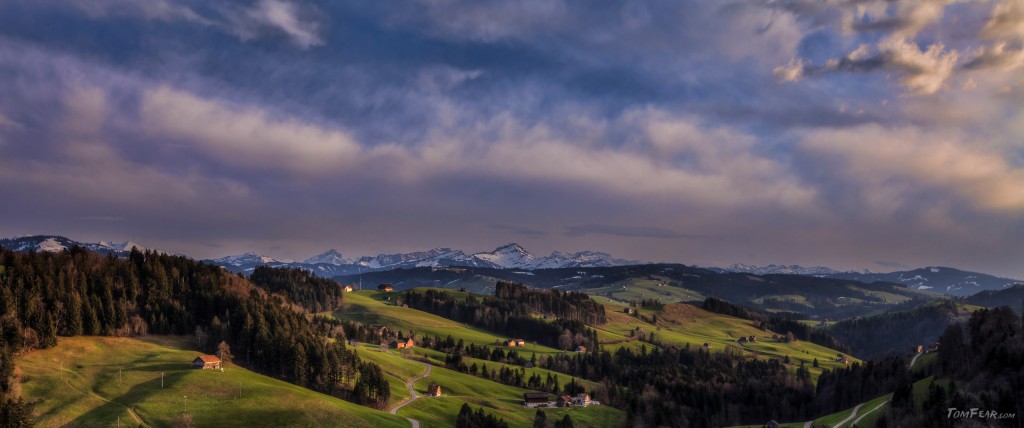 Posted on Januar 28th, 2014
If you are watching a map, then you'll see the Grindelwald glacier is going nearly down to the valley ground. But as you can see, there is missing a big part of ice at the end. Anyway this glacier looks still very impressive. I shot this image with my 100mm macro from the other valley side. If you are close to a glacier you should go for a hike to it and watch it from near distance.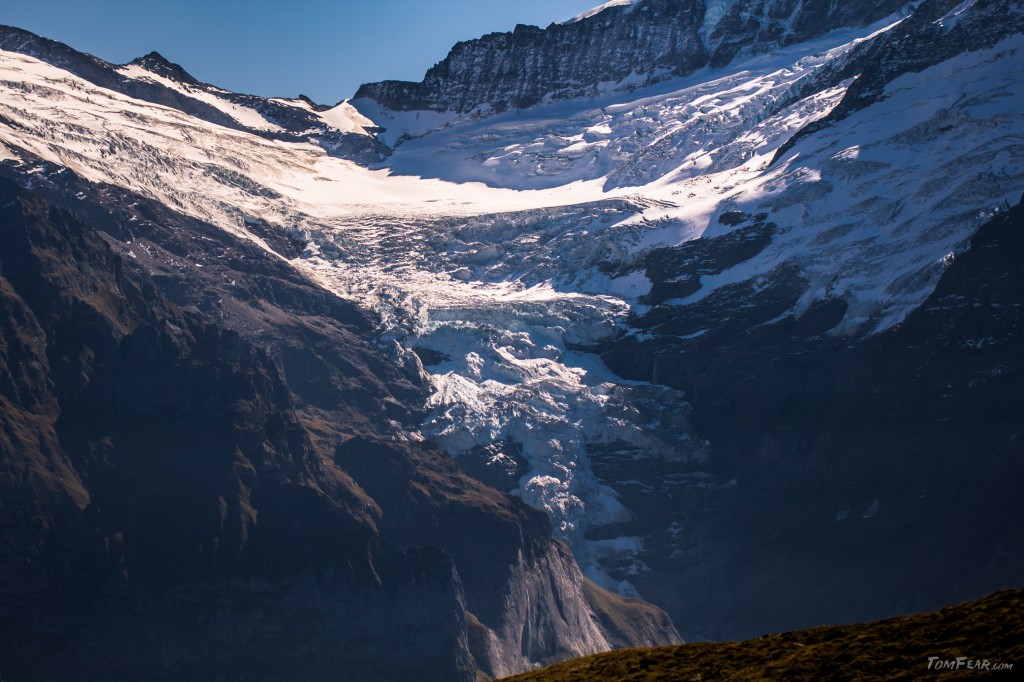 Posted on Januar 27th, 2014
Andromeda our neighbour galaxy. It's the nearest galaxy to the milkyway and it's only 2.5 million lightyears away, with a diameter or nearly 1 million lightyears. Andromeda is the largest object at the sky which you can see by your eyes in very dark nights. The surface at the sky is larger than the moon but less more bright.
This was my first try to get an image of Andromeda. And I'm not very happy with it. It should possible to get more contrast in the inner part of the spiral galaxy. I tried it one year later again and I'm much more happier with the other result, which I'll show you next week. But still, there is more potential to get a better image.
I took 5 images with 300mm at the 60D by f/9 and 3200ISO, don't ask me why f/9.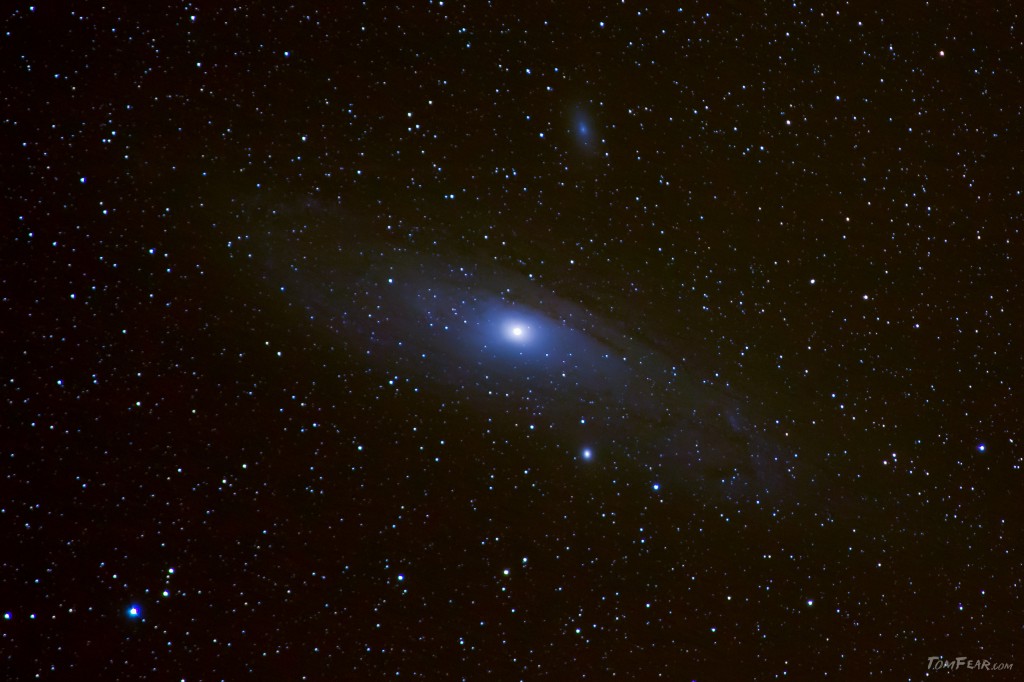 Posted on Januar 26th, 2014
Hmm, delicous! Wild blackberries at the edge of the wood and you can pluck and eat directly or you can make jam. But the blackberries are like weed here. The whole forest floor is grown of the thorny tendrils. And they grow all over, at the end the forest floor is completely covered with the thorny blackberry bushes. Good our farmers are cutting down the bushes from time to time.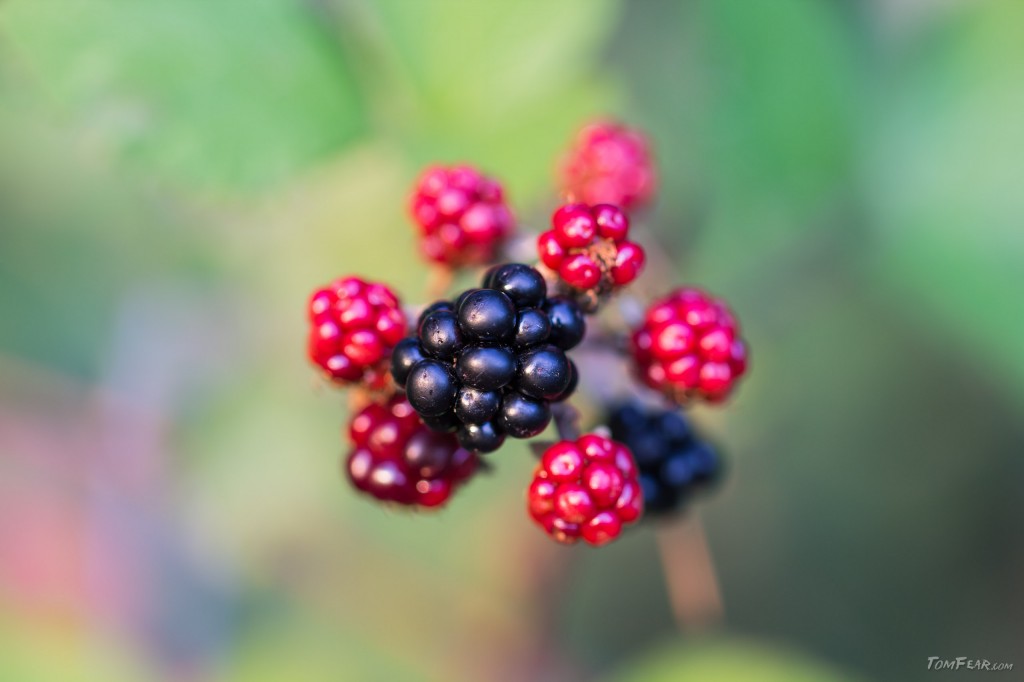 Posted on Januar 26th, 2014
This is one of maybe one hundert barrier lakes in Switzerland. I shoot this photo in april after a long winter, not like this winter. And you can see at the border of the lake the broken ice. Each time when they used the water in the barrier lake to generate electricity, the water surface sunk a bit deeper and crushed the ice at the shore. Good to have so many mountain valleys to get clean power, more or less.
Posted on Januar 25th, 2014
There were rumors about a castle, deep in the wood, nobody knows exactly about it. Good reason to pack my gear and my boots for a hike thru the spinney. Armed with our tripods, we fighted against thick brushwood until we saw deep in the wood this beautiful castle. It was an especially night were you could see Venus, Jupiter and the Moon near together. It seems they were shining down to this enchanted place to set the castle in the right light.
For this image I needed 12 images with different shutterspeed over 6EV.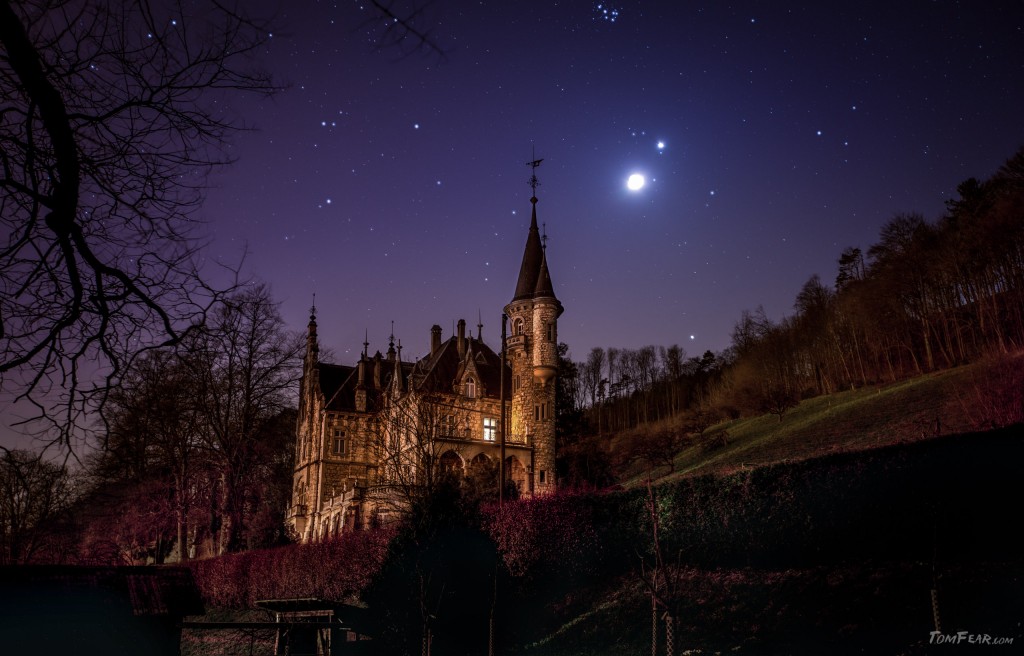 Posted on Januar 23rd, 2014
For another test journey, two of my friends and I were going to the Kloental. For this event I organized a Canon 5DmkII and rented some Lenses to test what I can expect from more expensive gear than my Canon 60D with the Tokina 11-22mm f/2.8. This shot was taken by the 5DmkII with the Canon 24mm f/1.4 by 800ISO and 4s 8 times. Short before I took this image, the fog was so thick, we couldn't see the lake and suddenly the fog disappeared and the bright full moon set the valley in this moody atmosphere.
After this test shooting I ordered a Canon 5DmkII and a 16-35mm f/2.8 which I still use.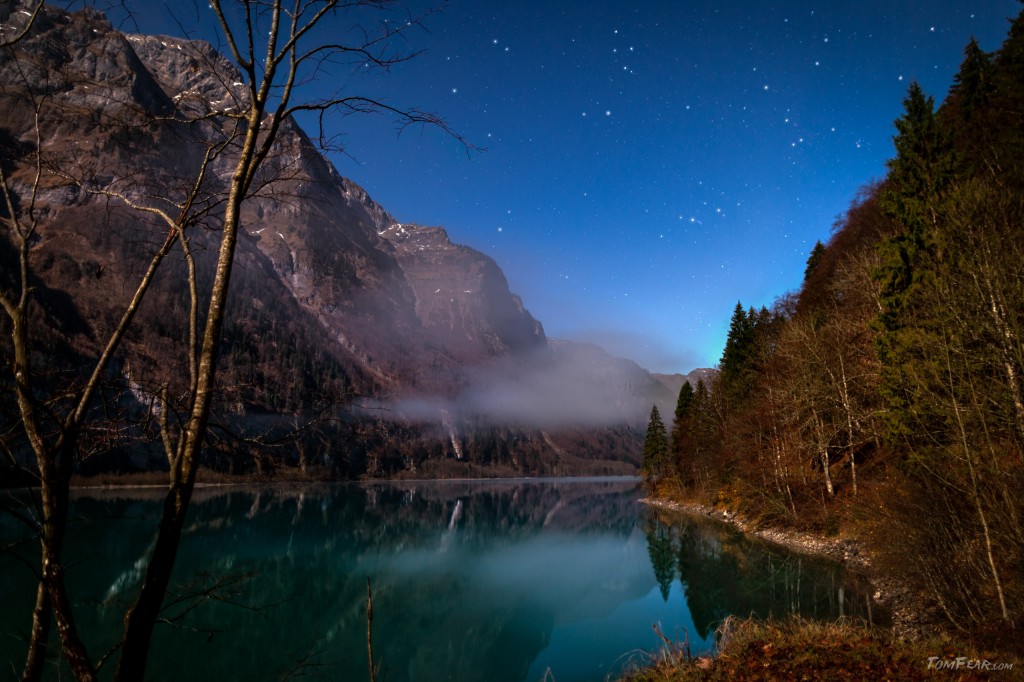 Posted on Januar 22nd, 2014
This image is a call for more color in this dull winter days. I mean nothing against winter, with full of snow. You can go for skiing and take some walks in sparkling powder or take a sledge and speed down a hill. But this… dark foggy days without light and snow. Temperatures to cold to going out but to warm for snow and there is only mud on the paths. Hey I didn't order this! I want to make a change. Sigh, it doesn't help, I have to go up to the mountains to see more snow and less fog or more precise to see the fog only from its upper side.
The only thing I have to say is: "DER BERG RUFT!!!"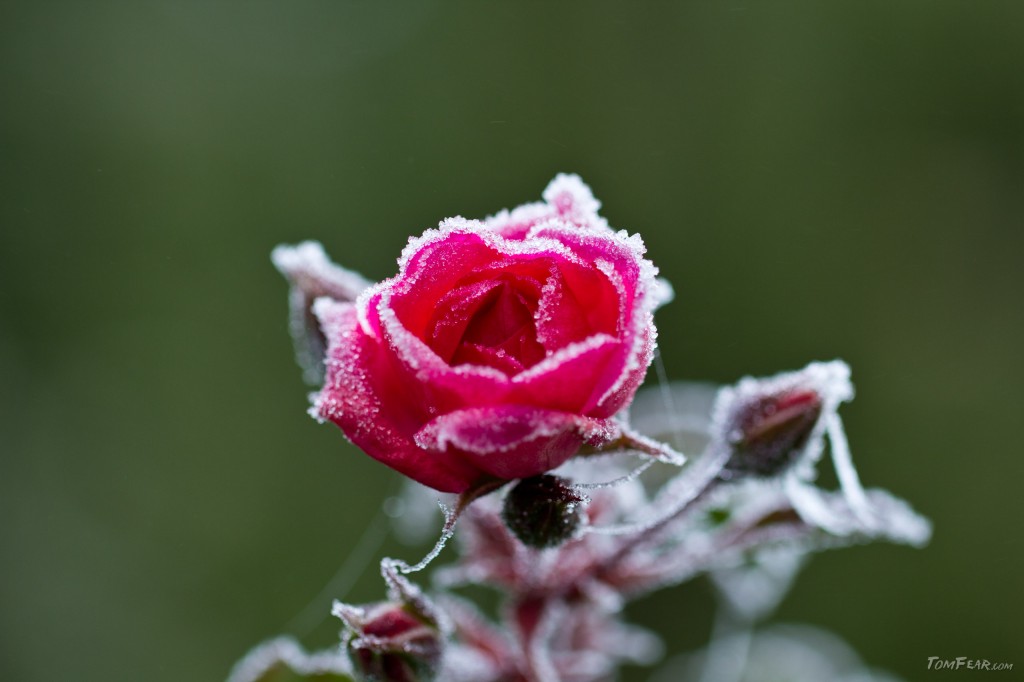 Posted on Januar 21st, 2014
Still in Vienna, it was a cloudy cold day were we watching the sightseeings of the city. It's not easy to take images if the sky is only a white nothing. But if you take braketing series and go dark enough you can see the clouds in sky. This image looks much better with a structured sky than with a white background like the normal images will look like, without HDR. So I tell you, shoot everytime a bracketing series, you never know when you need some extra dynamic in your photos.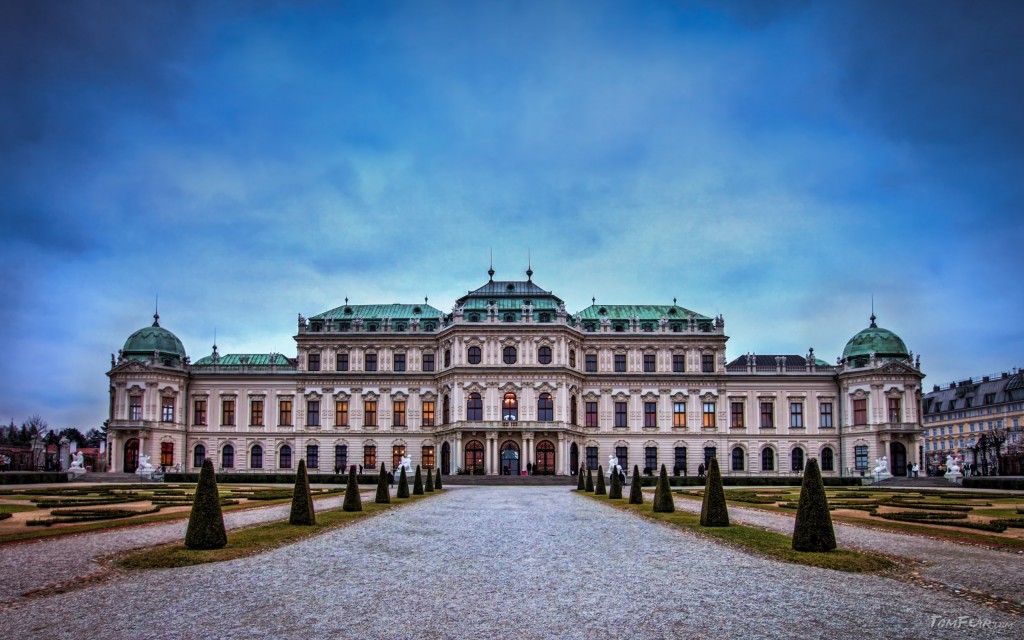 Posted on Januar 21st, 2014
It was one of the first spring days in the year, as I was walking around the lake. On this picture I used the first time a new technique to eliminate ghosts in a HDR image. It is a 3 shot bracket series and although it was less than a second to take all pictures, the ducks moved. And after the HDR processing you've got ducks with multible heads like hydras. To fix this, go to photoshop or a similar programm, lay the hdr image and a second image, which fits best in brigthness, behind it. Take a layer mask and rubber it through. After that correct the brightness with a brightness layer until you can't see a difference at the borders e voilà a perfect hdr image without any ghosts.