Posted on Dezember 31st, 2013
I wish all my faithful reader a happy New Year! May all your wishes come true in 2014.
Take this path and let you lead in a savety an peaceful 2014 with lots more beautiful photos. I see you all in the next year, that means tomorrow.
And as I promissed you yesterday, I show you a winter image where you can recognize the winter, as a winter has to be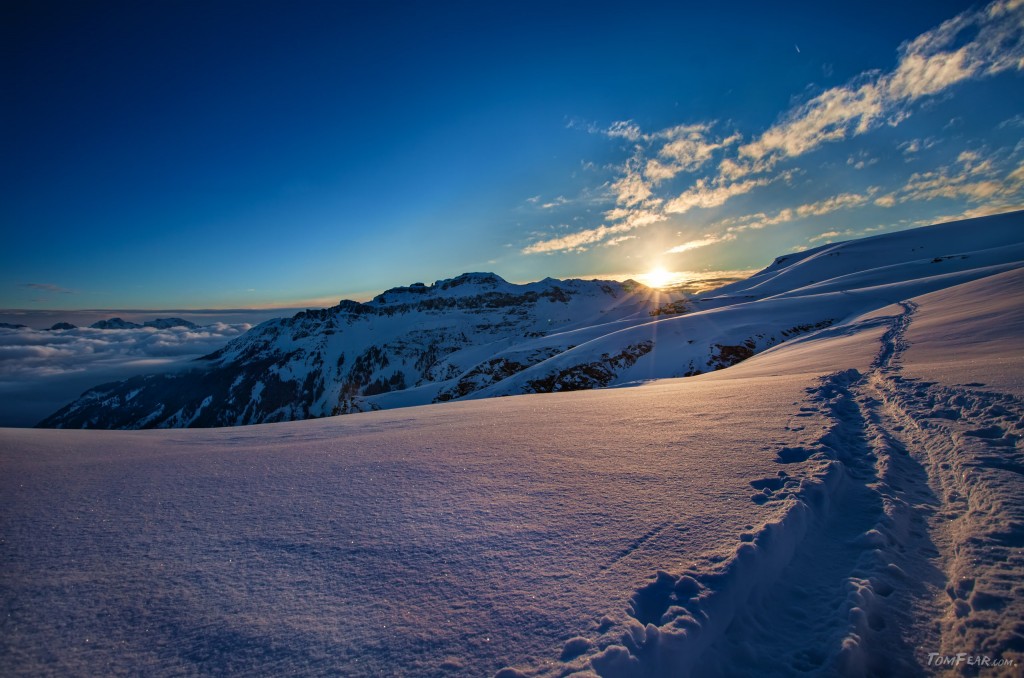 Posted on Dezember 30th, 2013
Sigh, all year the same here. It's cold outside, the sky's grey the paths are swampy and the whole day is it not really bright outside. I mean, okay, this December wasn't that bad, but it would be much better when we've got snow outside. How much brighter and more friendly would it be with snow, isn't it?
I can't resist to go to the mountains within the next days to see a sunny, cold, white winter day, with the sun shining down on me! Well, for all other people without this option, I will show you some nice images, when I am back. But for the moment I can only show you some frozen fog at the frame of the leafs.
Or would you more like to see a nice winter landscape? Tell me what do you think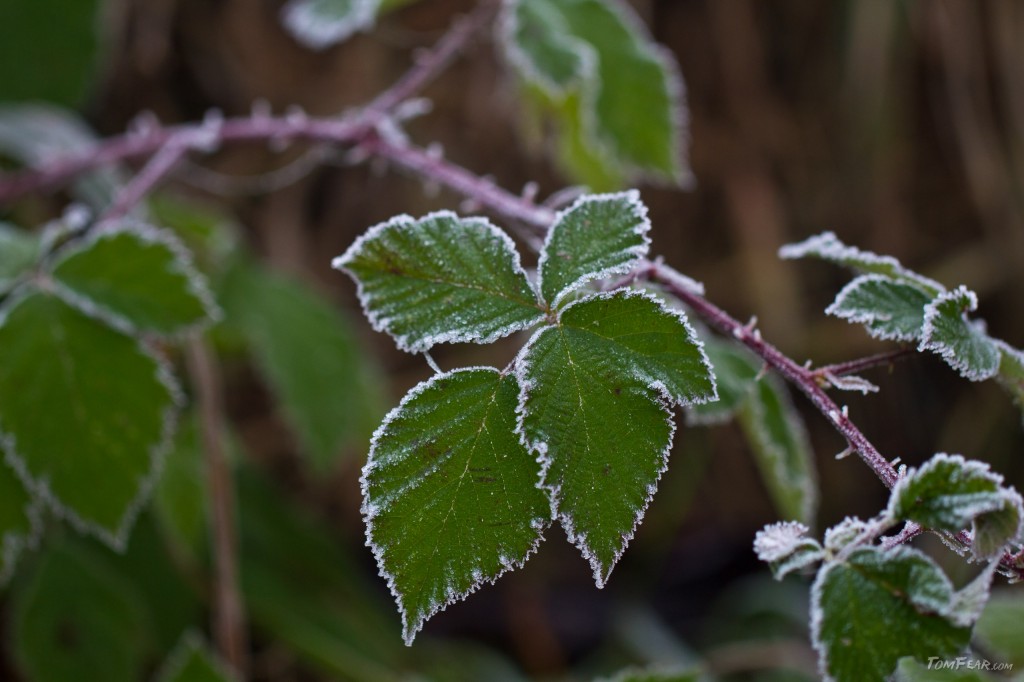 Posted on Dezember 29th, 2013
Two years ago, I bought an Astrotrac for making deepsky images. Huh, what's that? Okay, it's not so difficult. If you want to make some photos of the stars, then it's the best if you can hold your shutter open as long as possible, because the stars are so small and less brighter than the sun. Unfortunately, for this kind of photos, the Earth ist spinning along her axis. You can use this to make some funny startrails, if you want, but I don't.
Now I took the Astrotrac to hold the spin, virtually not in real :). It will turn your camera exactly with the same speed like the Earth is spinning, so you can make photos with very long exposure, in theory, but that is another story.
On this night, the first night we've got no moon and no clouds, I want to test my new toy, but the images were all so blurred. My camera must be broken, I thought to me, until I realised the upcoming fog which made my lens wet like rain. So I couldn't make some deepsky images, but took this moody photo of the disturbing fog. And the reason because I make the most night images in the alps, the immens light pollution at the horizon.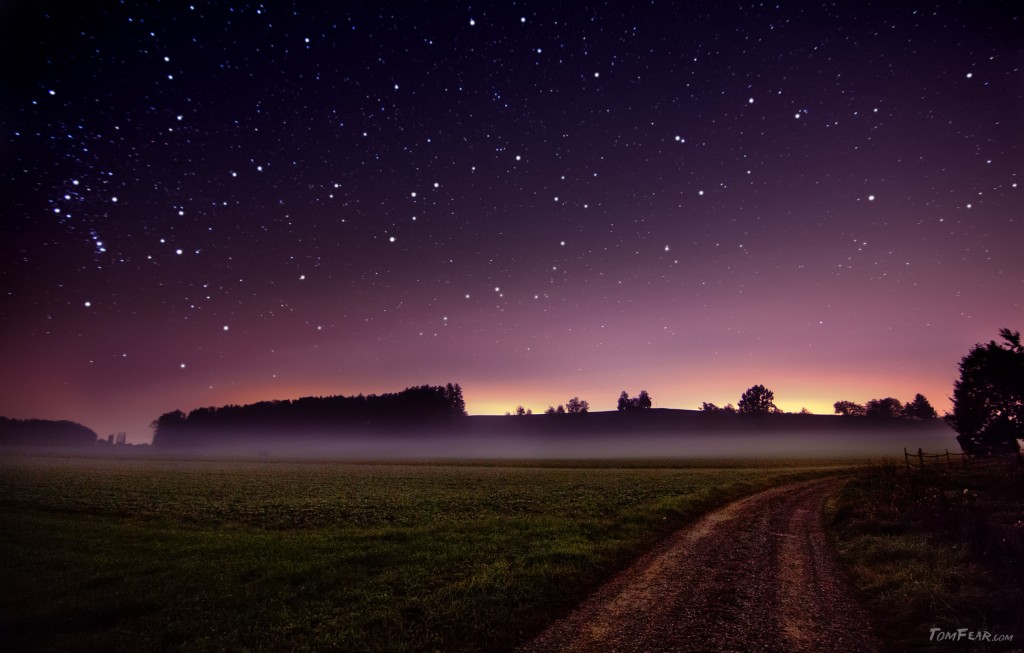 Posted on Dezember 28th, 2013
On my first night tour in the Toggenburg region, I could see the moon rising over the ridge of the Saentis. It was a bright and clear full moon night, so I was surprised to see a bit of the milky way on my photo. Only a bit but anyhow…
This image was processed out of 19 shots. 14 images to reduce the noise and another five images to brighten up the foreground.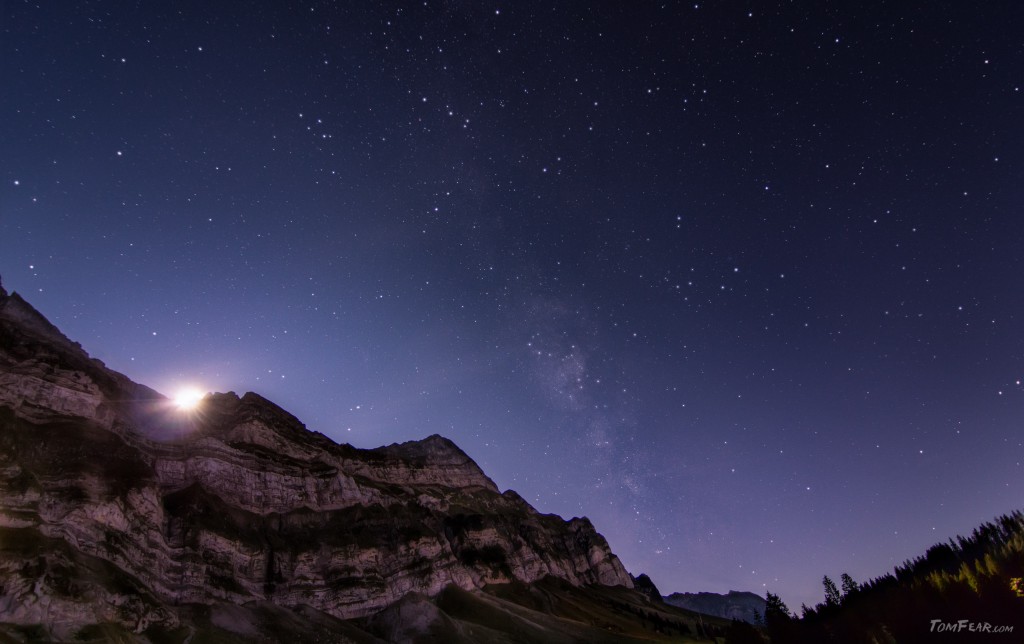 Posted on Dezember 27th, 2013
It was at a sunny, warm day in April. My friend and I had our typical itchy feeling in our index fingers, time to go for a nightly photowalk! Our destination was the Gräpplensee in the Toggenburg region. After a steep walking in a dark forest, a strange thing happend; we arrived a large snow field between the trees. Because it was warm I was wearing my normally walking shoes, so I was gliding around while I was walking upwards. It costs a lot of power to go up. But the worst part was coming, after we reached the ridge.
Our destination the lake was in a small valley and to get there we had to walk down in the snow, sinking deeply into the snow at every step, until the knees. And all the snow was gliding in my shoes and under my feet. I hate wet feet!
And after we were down at the lake, we didn't saw it, because it was still under thick layer of ice. And last but not least, there were clouds coming up. Sigh! But after the first test shots, while I was very frustrated, I got this image. Look at this, what a great mood! Because of the clouds, the stars are getting larger and more glowing, how beautiful!
And the conclusion of this; I will never more go for a walk without good hiking shoes and spats. Did I mentioned; I hate wet feet!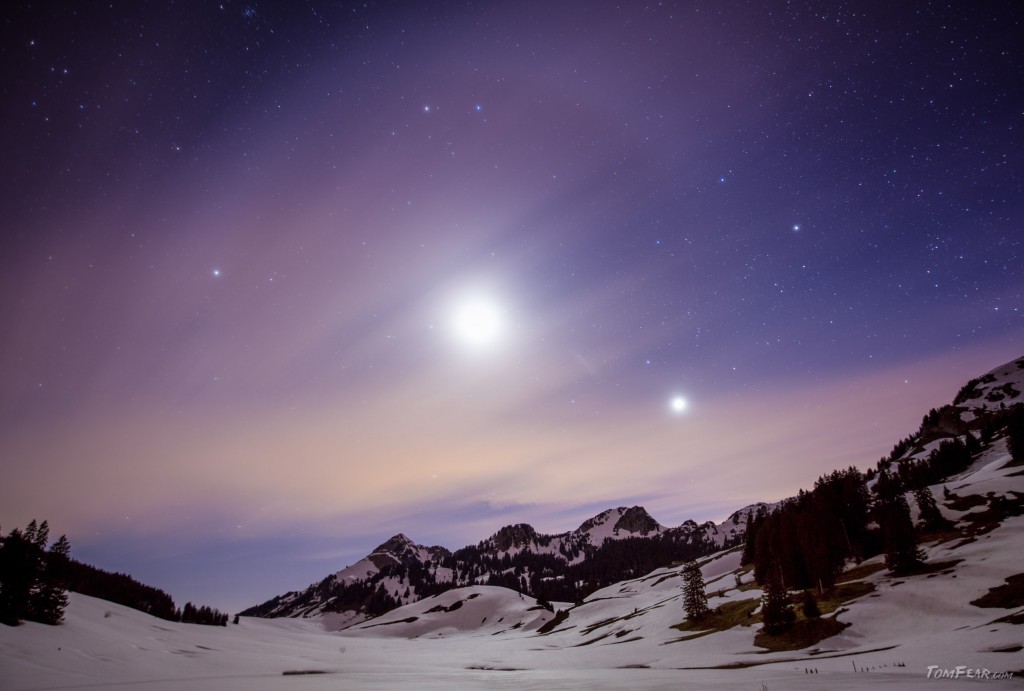 Posted on Dezember 26th, 2013
In the spring I saw a lot of bumblebees, busy collecting nectar. They are alle over the meadows and buzzing around. I thought, if there are so many of these fluffy insects, I should go for a photowalk to catch some of them.
But hell, I saw a lot of these little beasts, but they do not want to get pictured! Everytime I was neer, they flown away or moved around. It was so hard to get only one image without blur. At the end short before I would go back home, I saw this fellow. Allways it was turning away from me behind the grass blade, I changed my position, it changed the position too. ARGH! But at the end when it was pissing off, I catched em from behind like a speed camera.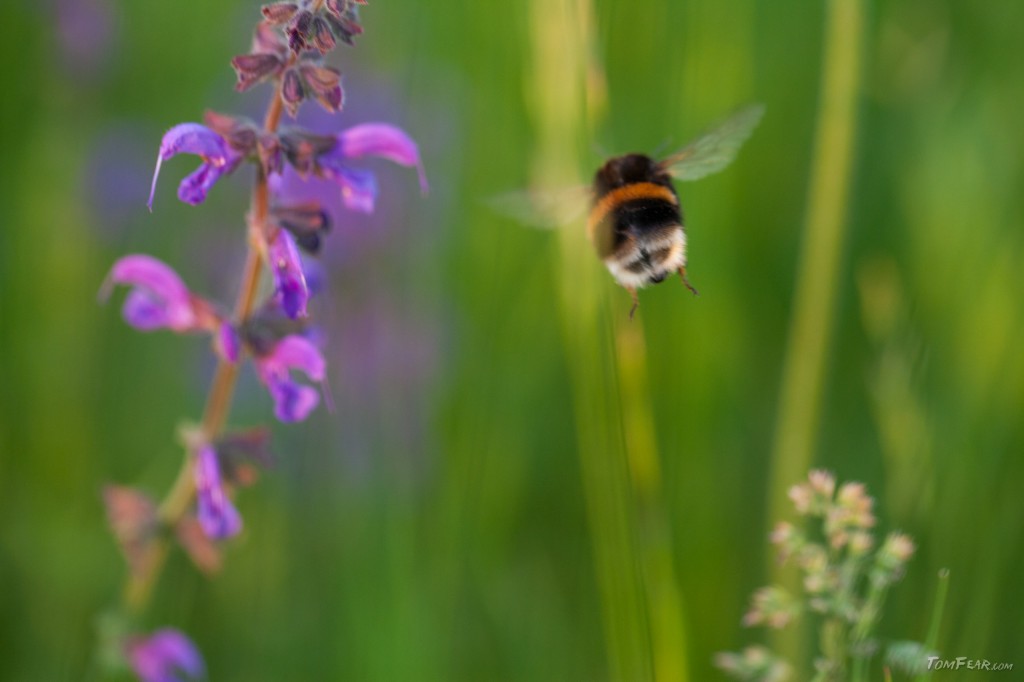 Posted on Dezember 24th, 2013
How was this photo created? Neither is it a photomontage nor is behind me a street or a village. I took this image at the Sämtisersee in the Alpstein. To reach this place I had to walk a steep path up to this high plateau and there was also no tree where I can photograph, no no. I had to take the tree, the lamps and all the decorations with me. After I was there I build up the tree and waited for the right light, when it's dark enough to see the lamps and the landscape still bright enough to see it and the sky has a beautiful sunset touch.
You know my motto: Nothing is to far to get a good image!
I wish you a merry Christmas for you and yours and a relaxing time!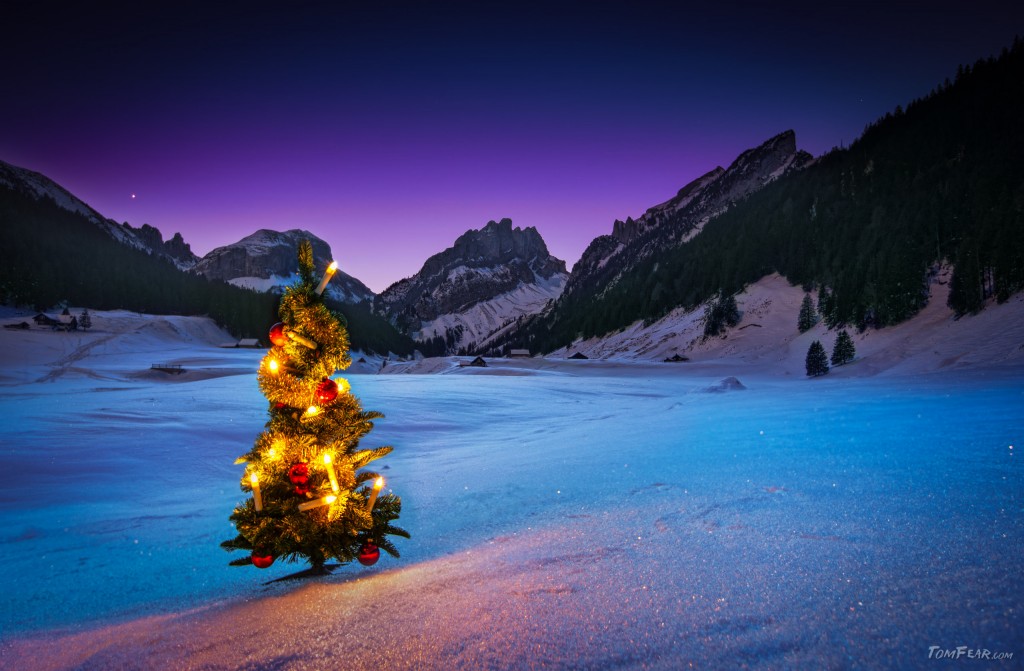 Posted on Dezember 23rd, 2013
I was marveling the mountain panorama, as a mountain jackdaw came down and sitting near me on the balustrade. As a photographer I am, I was delighted about the model and hold on it. Nice bird with a nice background.
But beware, they are very dangerous! When you are sitting outside, enjoying the nature and you hear the scream of a mountain jackdaw… Then it's maybe to late. Your jacket, your head or more worse your eye is full of the white sauce out of the sky! Trust me, I know what I'm talking about…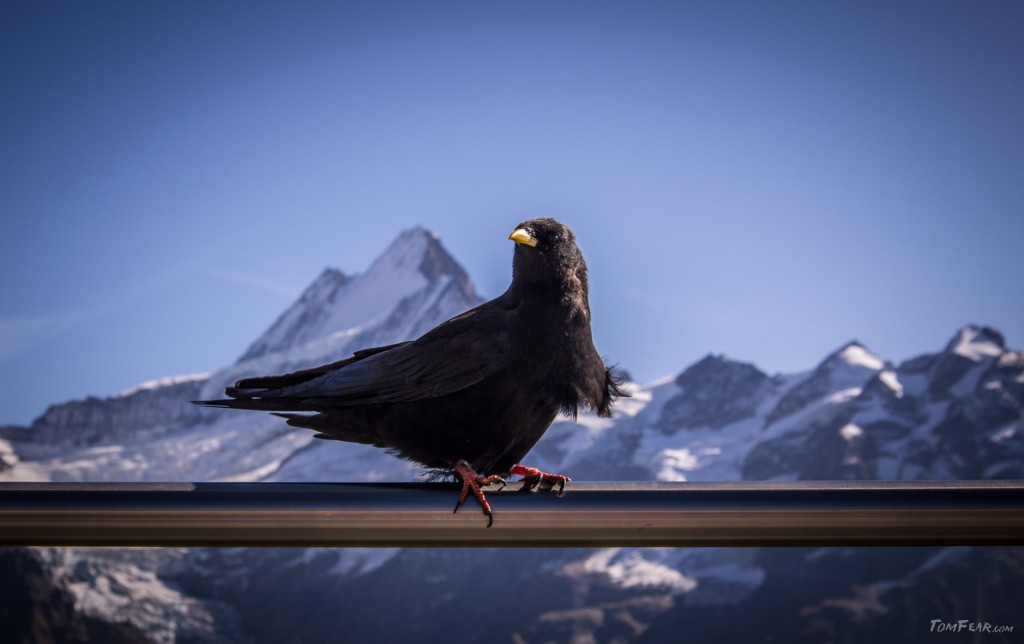 Posted on Dezember 22nd, 2013
As you know, I like the night for photowalks. So I tooked the opportunity at my stay in Bergen to shoot some pictures. I walked along the Bryggen houses, you can see on the left side until I reached a place with a good sight to the harbor and the old part of the town. To get best image I shoot several bracket series with different exposures and f-stops. At the end I took more than only three images. For the sea I used the longest shot, for the smoothest surface I can get. And for the next time, when I am shooting some images with water, I will use the bulb mode to get longer exposer time than only 30 seconds for a much smoother surface than on this image.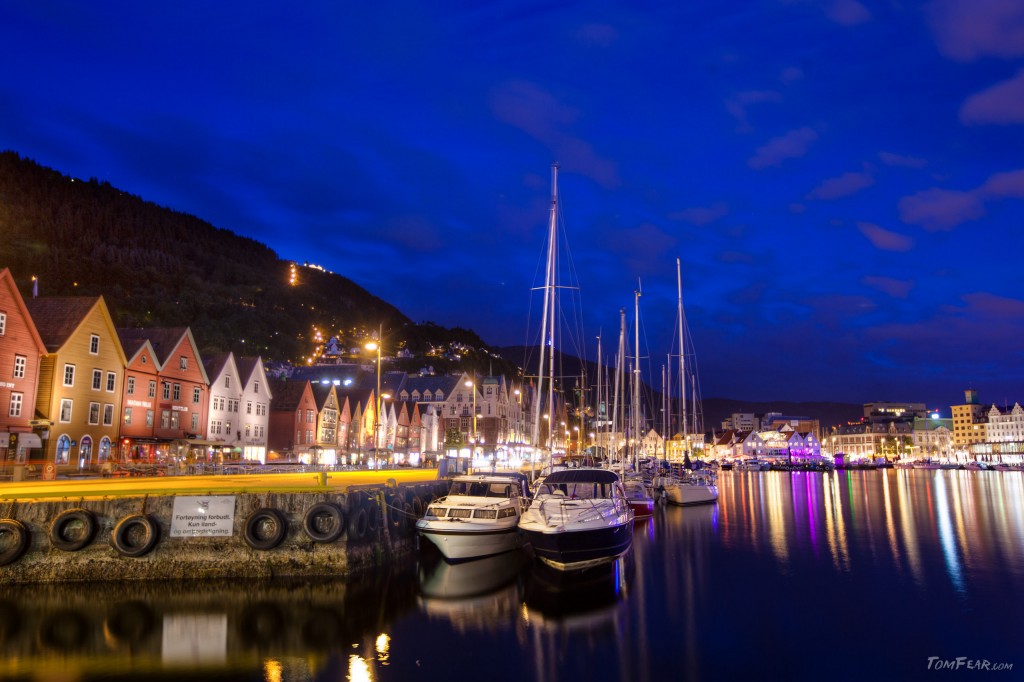 Posted on Dezember 21st, 2013
Another image of my early night shooting phase. We spend a weekend in Arosa, a ski resort in Switzerland, before the big snow was falling and ski season starts. At the day I was walking with my dear buddy bubu, you know him and watching where I could get some nice starscapes in the night. Because this was in my testing phase and my wife wouldn't  be amused, when I stay the whole night outside the hotel room, I was looking for a place where I could drive by car and don't need walking to far.
This place I could reach by a half hour of walking, but there was another limitation. In the city of Arosa you can't driving car after midnight, it  is forbidden. So I was a bit under pressure to get back early enough.
This image is the result of 8 shots in series for noise reduction and 3 shots for HDR. And you have to excuse my strange facial expression. I had to sit there without any movement for about one minute, watching directly into to the full moon