Posted on April 14th, 2015
If you are visiting a city, then do it right!
You have only one night? No problem, first study the internet and ask Google for the best photospots. Then when you arrived the city, check out the best places. And at the end of the day you will get only a small time window to shoot your best pictures. First the sun sets and the sky is getting colorful and after the sun is gone, the show begins during the blue hour, when the light is still there, the sky is blue and the lights of the city gives you the orange color contrast.
And if you think, after this stressy time, you have done your work, then you are wrong. The next blue hour is coming in a few hours before the sunrise. Be prepared and know, where you can find the best spots. And still after the blue hour in the morning has finished, you can shoot such amazing images like this one.
So use the best time to take your images, and skip your lazy mood. You can sleep again, when you are back in the office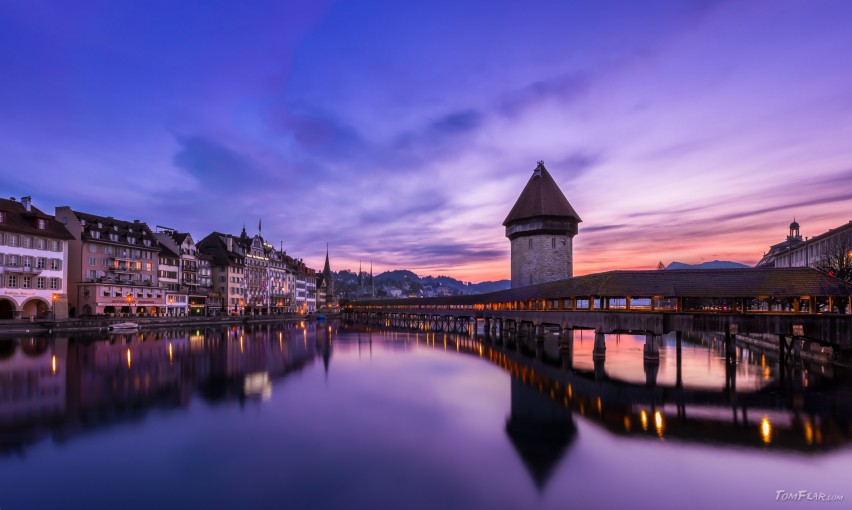 Posted on April 8th, 2015
Empty streets in Lucerne when the night comes to an end.
You know, the best time for shooting city lights are not in the middle of the night. The best time is during the blue hour. Unfortunately during the blue hour are many people around, but you have a second chance. There are another blue hour, before the sunrise.
Okay, dudes, I know it's hard to get up such early in the morning and during the summer you have to stand up earlier than in the winter months. And you know, I don't like to stand up early, but look at this image. Not a black or sodium vapor lighted sky, no, a smooth blue sky. And even this small amount of light is enough to brighten up the houses, so you won't have this yellowish look of the artificial light.
On the opposite part, you have only a half or in maximum one hour to shoot the images. So be prepared and check out the location at the evening before, but the light is amazing and all other tourists are still in their beds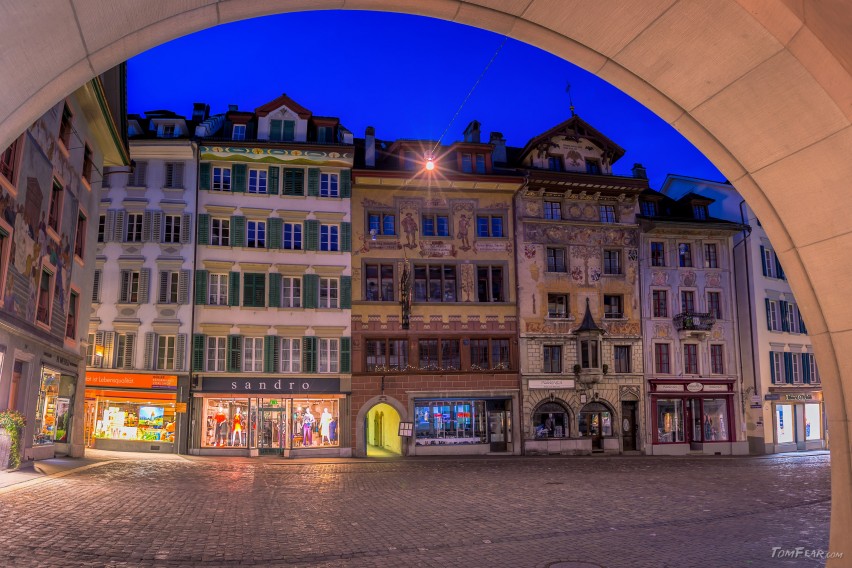 Posted on März 22nd, 2015
If you are visiting Lucerne why not shooting some images during the sunset and dusk?
So I did it, I wanted the blue hour for the best light with a blue sky and the already turned on yellow lamps. But on my search for the best location, I had to stop for a quick image from the sunset with the purple sky.
If you are visiting a city, you should go for a photo walk during the blue hour. And you know, there are always two blue hours each day. One in the evening and one at the morning. So you have two chances to get fabulous photos with amazing light.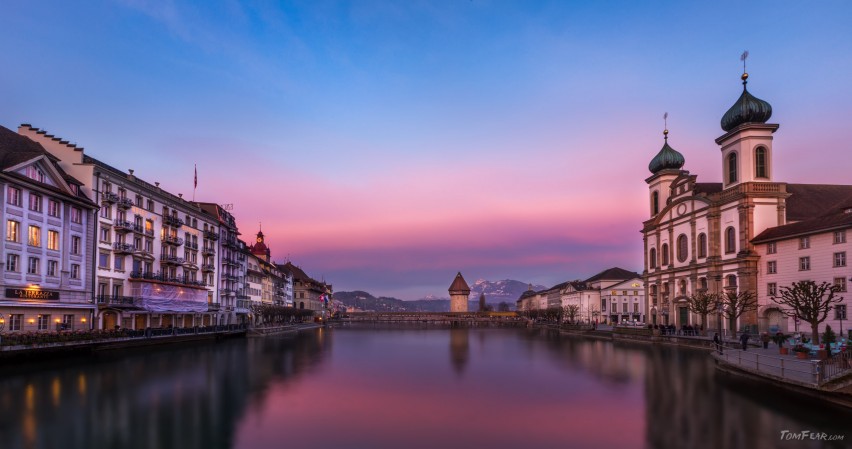 Posted on Dezember 2nd, 2014
You can find this red house in Gamlebergen. Gamlebergen is an outdoor museum in Norway where you can find all the old houses which are not demolished, but instead moved from their old places to this amazing museum of bygone days.
And you will recover all over Norway these red, wooden houses. Maybe they painted it red, to find it again in the deep snow coverd winter landscapes. Or maybe they liked the color red. Or maybe the producer of red paint had a really good sales team

What ever the reason was, it is very characteristic in Norway and you can find all over the country these beautiful red houses.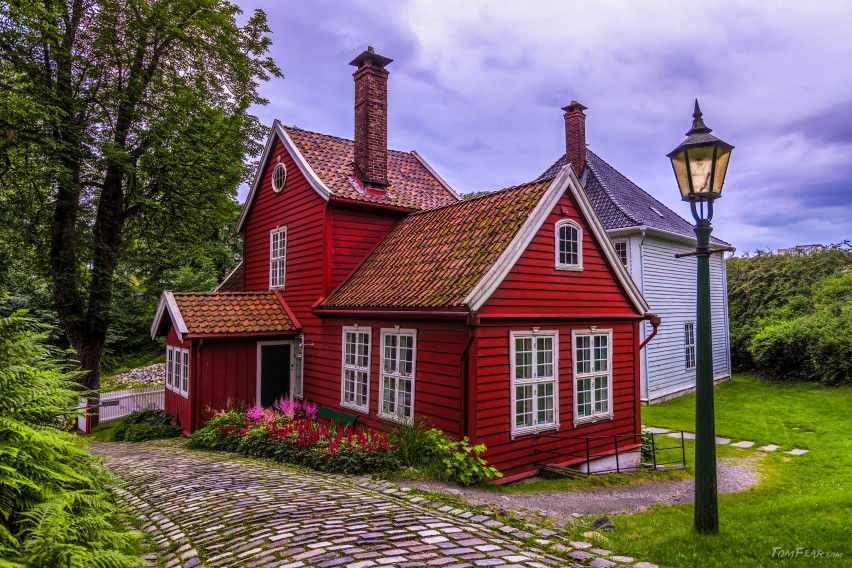 Posted on November 13th, 2014
At my last stay in France, I was in a region called Provence. It looks a bit like the Tuscany in Italy, except they are talking french, it's anyway near the italian border.
However, I visited some nice old villages among others the village of Venasque. A small place on the top of a hill with narrow alleys and an old church, which was built in the 17. century and called like the famous dome in Paris, Notre Dame.
I used my Feisol tripod on the maximum height of about 2 meters and took a bracket series for an HDR image. The tripod is no more as stable on this height and it bounces a bit, therefore I used the 10s timer to wait until the camera was stable again. The usage of the camera at this height, gives me the possibility to level the camera horizontal to avoid angular lines, more or less.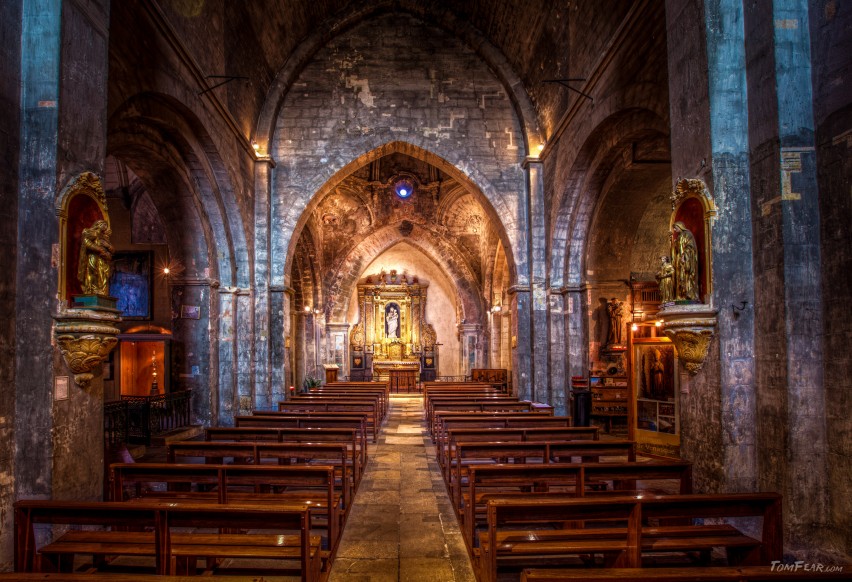 Posted on September 30th, 2014
In the Provence you can find a lot of small, medieval and picturesq villages, just as Venasqe.
A beautiful little place on the top of a hill, with narrow alleys and tight ways. But also the residents here don't want to miss a car. And at the latest now you know, why here in France so many small cars on the roads are.
In such a garage there is no space for a S-Class Benz and if, then you will never ever can leave your garage through the narrow alleys. Maybe you can build a garage for your Benz at the foot of  the hill and take the last piece with a Peugeot 108.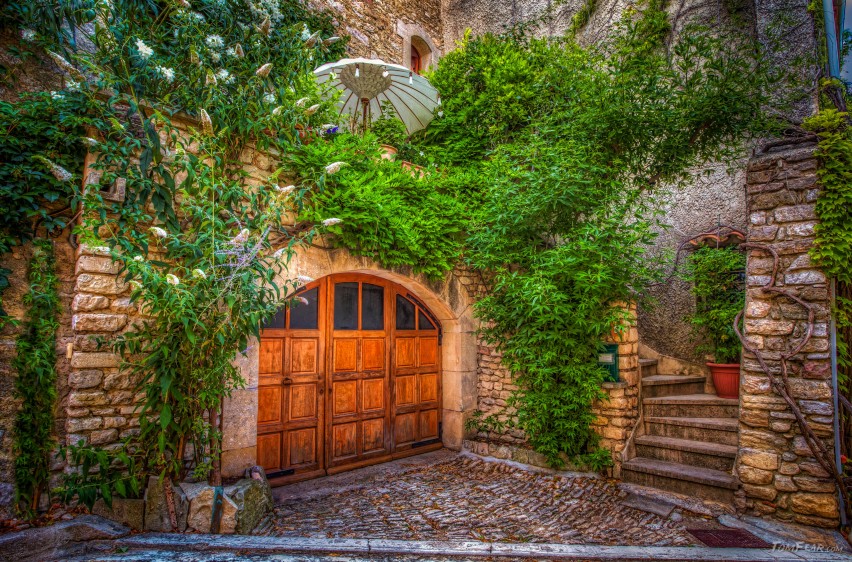 Posted on September 22nd, 2014
Hands up, who was at New York once? There are unbelievable many taxies, the bigger part of the cars are yellow.
And it's easy to see, all the clichés about the taxis in New York are true. Once somebody told, if you throw a stone up in the air, in New York City, then most likely the stone will hit a taxi when it comes down. Well, this comparison is not so far from the reality.
But if you'll find a free cab if you need one, this is a totally other story.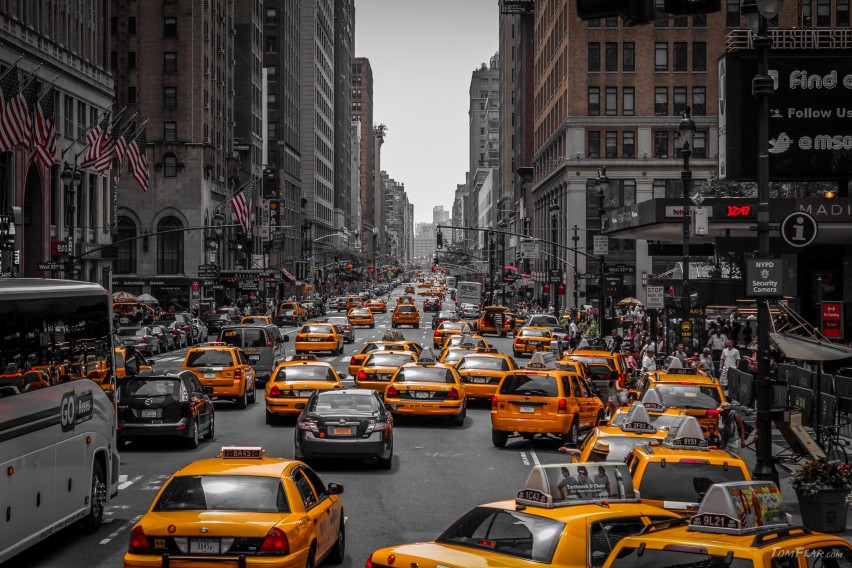 Posted on Juli 31st, 2014
Although we had rarely a clear sky at our journey through Norway, I could make some atmospheric shots.
This nightshot from Bergen is one from this categorie. You can't see any stars, therefore there are nice blue clouds in the sky. Because the blue hour, up here in the north is during a very long time. And if you can see all these people, the Norwegian must enjoy this long summer evenings too.
Therefore they have also very long winter nights, although for starscapes this can be not so bad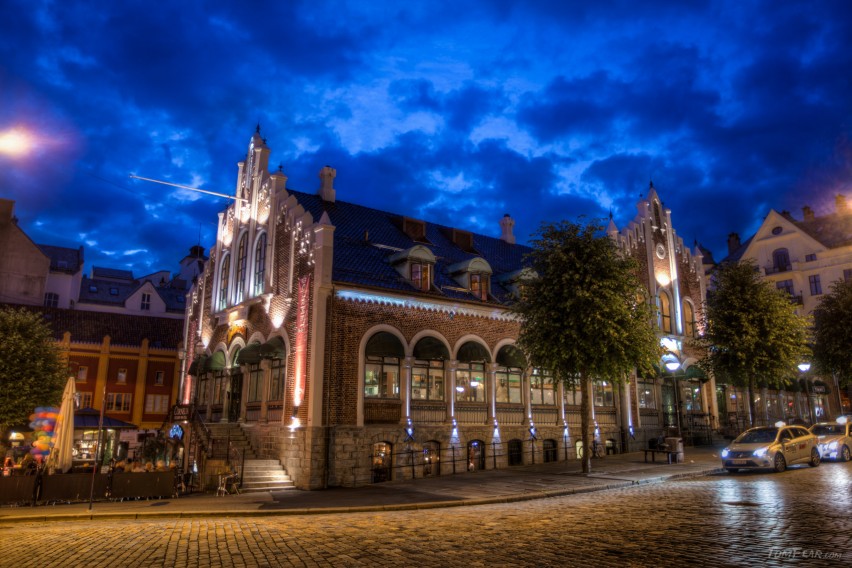 Posted on Juli 29th, 2014
There are evenings, you can see how it will come. Then you know, now you have to pack your gear, drive to a place with an interesting object and you will get a color spectacle.
And so it was at this evening, you coldn't do anything wrong. There were several cloud layers were begun to glow in different colors. I do only have to press the shutter and thing was in box.
In such sunsets it makes twice as much fun with the right equipment to run a riot
Posted on Juli 10th, 2014
Normaly you have one blue hour after the sunset. But not so here up in the north, where the blue hour is going on the half night.
This is good, because you have a lot of time to take nice nightshots of th cities but for nightshots with a starry sky is this the wrong location, during the summer.
But even when you you can't take starscapes, there are a lot of other beautiful objects you can shoot, like the city of Bergen at night.