Posted on November 30th, 2013
To take this shot we had to walk through a dark forest crossing a cemetery in the middle of the night. Only the moonlight brighten up the dark wood. There where strange noises around us, but we are going forward and fightend us to the dark wilderness until we reached the clearance in the middle of this ancient forest. Now we didn't hear any noises anymore, it looks that even the animals left this dangerous place.
But as brave photographers as we are, we didn't give up. We crawled through the mud to a small bush where we can hide us for our photoshooting. This castle looks suspicious like the infamous Castle Wolfenstein. Who knows what's going on there and look at the strange packages in the front. Better not think about it…
Know we had to concentrate us for our job. Build the tripods, setup up the cameras, is the focus correct, what f-stop I should use and what is the shutter speed? Now press the trigger, argh, the shutter is so loud… but yes it fits! It's looking good we've done it!
Then I packed my gear together turned me around and left Schloss Hegi  by walking across the street to my car and drove home.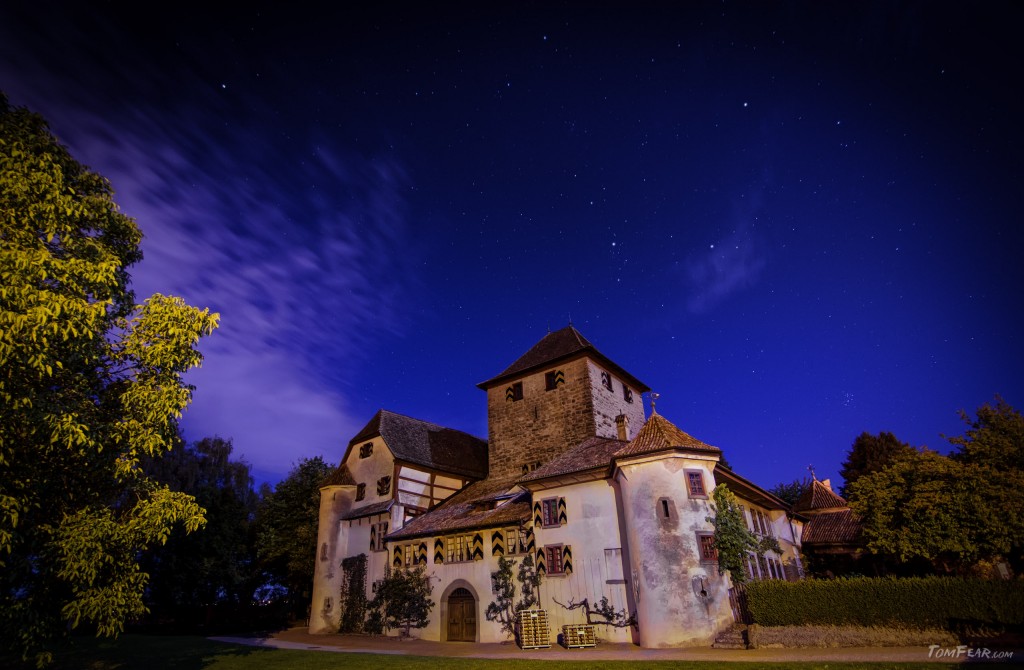 Posted on November 29th, 2013
I was walking home and it was nearly dark, because I did some macro shots with my macro lens, as the sky begans to glow. Wow, I hadn't this seen so often, a sky so nicely red and the best, the moon was in sight. But I had only my 100mm macro lens with me. I couldn't zoom, so I have to take the mood with the tools I had. I was walking around forward and backward, until I was in the position to get the moon with tree on the same picture. I don't know, which other shots I took with the macro lens on that day, but this Image beats them all, I love this one. I hope you enjoy it the same way, like I do when I see this image – each time!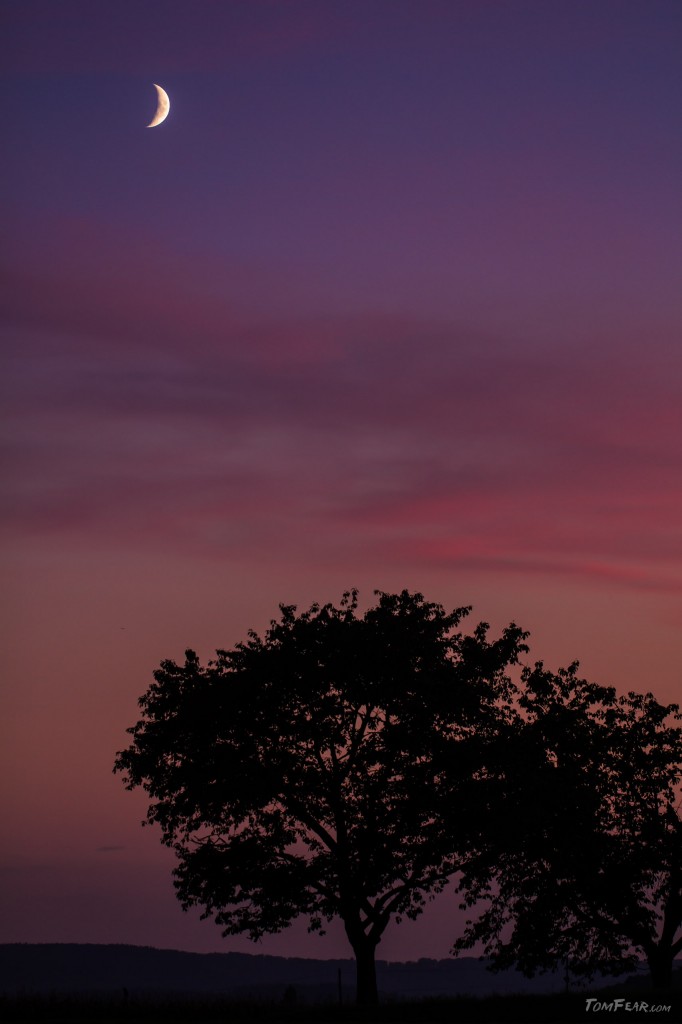 Posted on November 28th, 2013
If you stay in Switzerland for some time, you have to visit this small town called Stein am Rhein, near the German border. It's so lovely. But how to get a city place like this with a lot of tourists empty? First don't go at weekend, and go when the weather isn't in best condition. So you have not too many people in your pictures. And now it comes to the best part: Use a tripod, set your camera to fully manual and take a first shot. Wait until the crowded part of your first image is empty and shoot again. You don't have to wait until the whole place is empty. You need each part only for one time clean. And now, you can, with the help of Photoshop, rubber out every person in your image.
If this is not enough, you can use in addition a fullstopper ND filter. Then you can take the images up to 30s each at noon and the people are nearly gone, because of their moving.
For this image I needed 4 series of 3 shots, a total of 12 shots and didn't use an ND filter.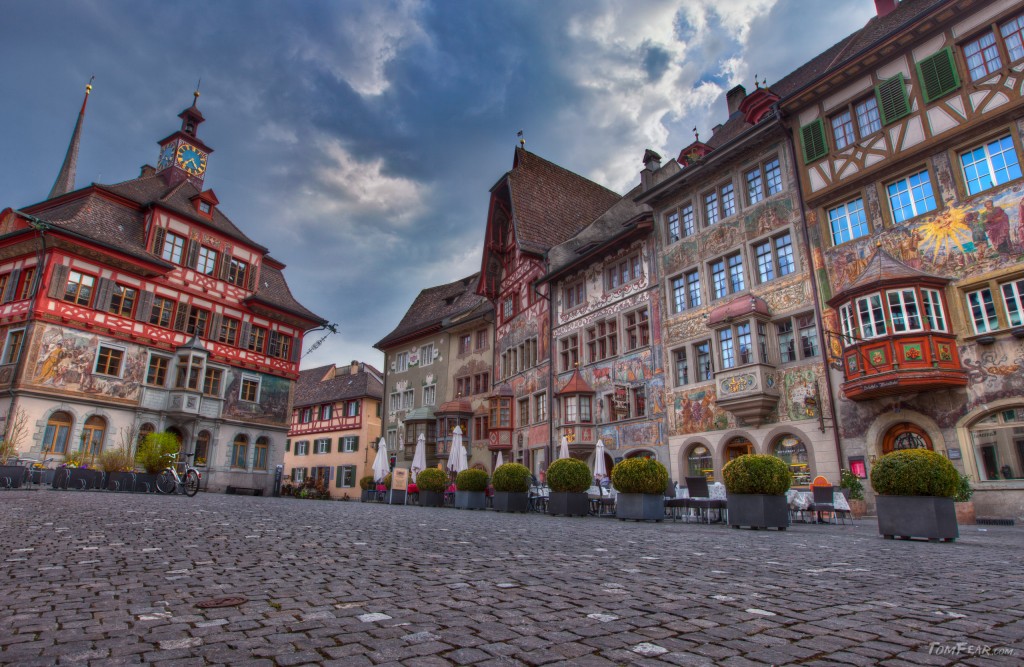 Posted on November 28th, 2013
It was at the days when I had a new macro lens. I was going out and took photos of every little piece I'd found. Like this small acorn which looks a bit like a mellon, isn't it? I was so fascinated of the small world. I was beginning to see things I never realised that they where there. Since then I am walking around with a diffrent view and I see more things than ever before. And I can recommend you to do this too. Go out into the nature and search for beautiful small things you never saw in that kind and you will have a changed view of the world around you.
Hm, I think it's time to do that again, go out and shoot some nice little pieces of nature.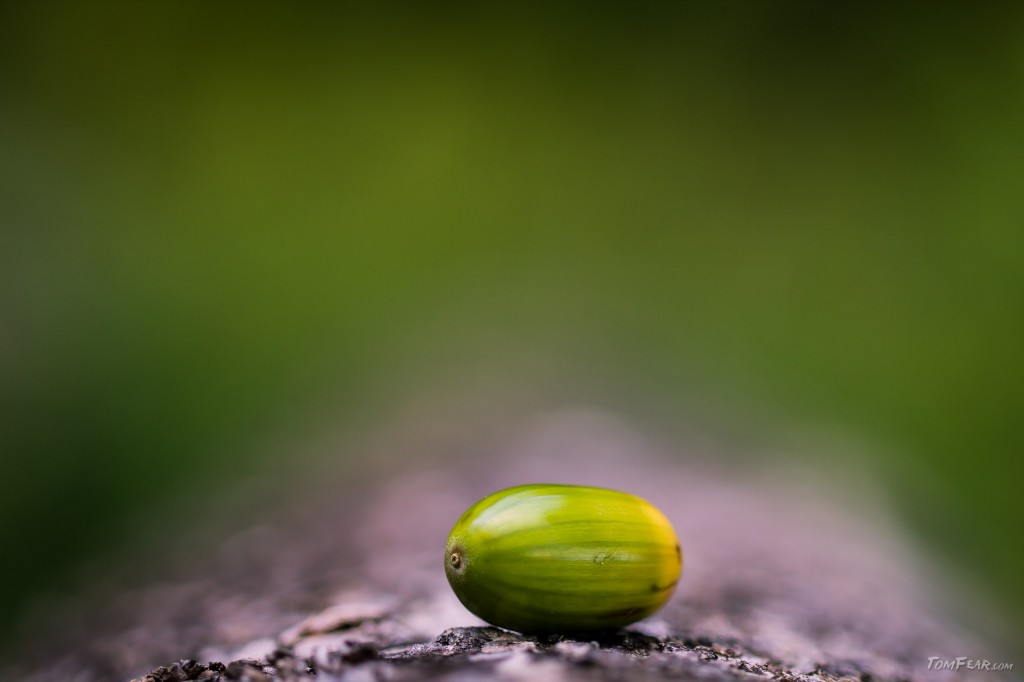 Posted on November 26th, 2013
On our tour through norway we passed a lot of lakes. There are so many lakes in this country, you can't count it (oh, nearly a rhyme). Sometimes I needed to take a hard break, to jump out of the car, grab my camera and shoot some pictures. So was it at this lake. Because we were too close or the lake was too big, I decided to take a panorama 3×3 images for an HDR image. I retouch all my HDR images, after Photomatix has tonemapped, with Photoshop to fix all the ugly parts of tonemapping by hand. This means I need four images +2EV 0EV -2EV and tonemapped, which works well for single pictures. But if you stitch a panorama it is not working, because all panorama apps will stich every series different, so at the end you have 3 panoramas which are not congruent. Hmm, it would be very grateful, if somebody has an idea how I can do this exactly. So for the moment, this is only fake HDR of 3 RAW images stiched together.
Ah and I don't know anymore which lake this was, my 5DmkII had no GPS tracking. But with my newer 6D this won't happen anymore.

Posted on November 24th, 2013
Yes, this is my last picture of this dead tree. Short after this, in a stormy night, the wind has felled this beautiful dead old tree. Now I share this image and you might wanna take a look on it. So let us take a minute of silence in memories to an old tree … So that's that, now we can enjoy the image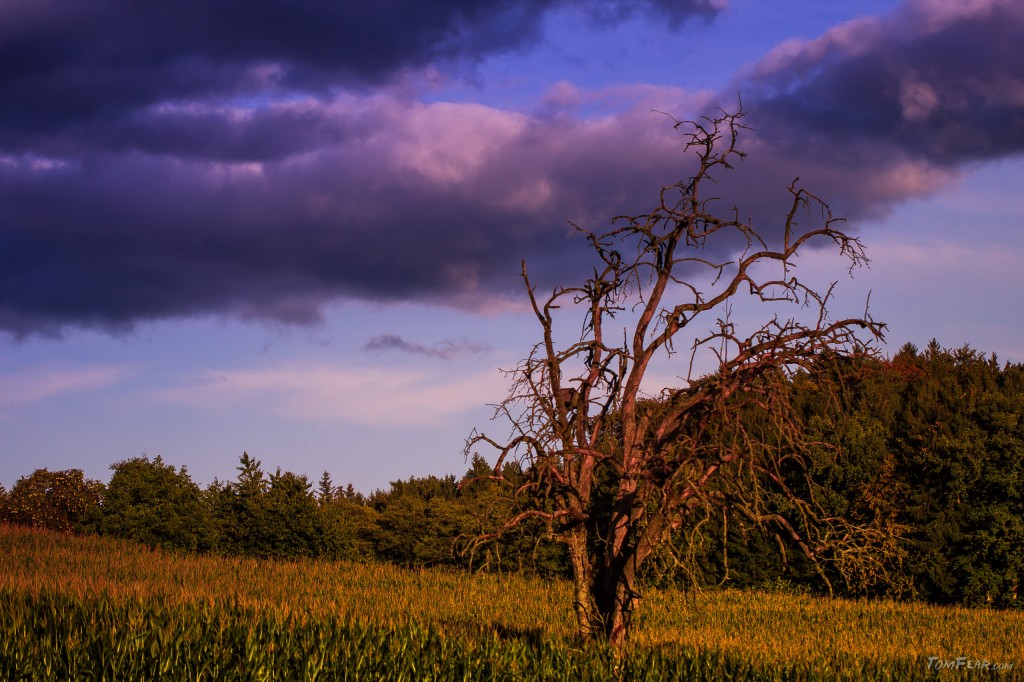 Posted on November 23rd, 2013
This is an older image I took two years ago at the beginning of my testing phase. It's the entrance of a castle near my home, called Kyburg. The goal was to get some starscapes with an interesting foreground. What I didn't know, at that moment, was the immense light pollution here in central Europe. This and the bright moon eliminate most of the stars in the sky. But on the other hand, I've got a nice color gradient in the sky. It's not a beautiful starscape but a colorful night image.
This is an image of 12 shots by 35mm 15s f/5 3200ISO with my Canon 60D.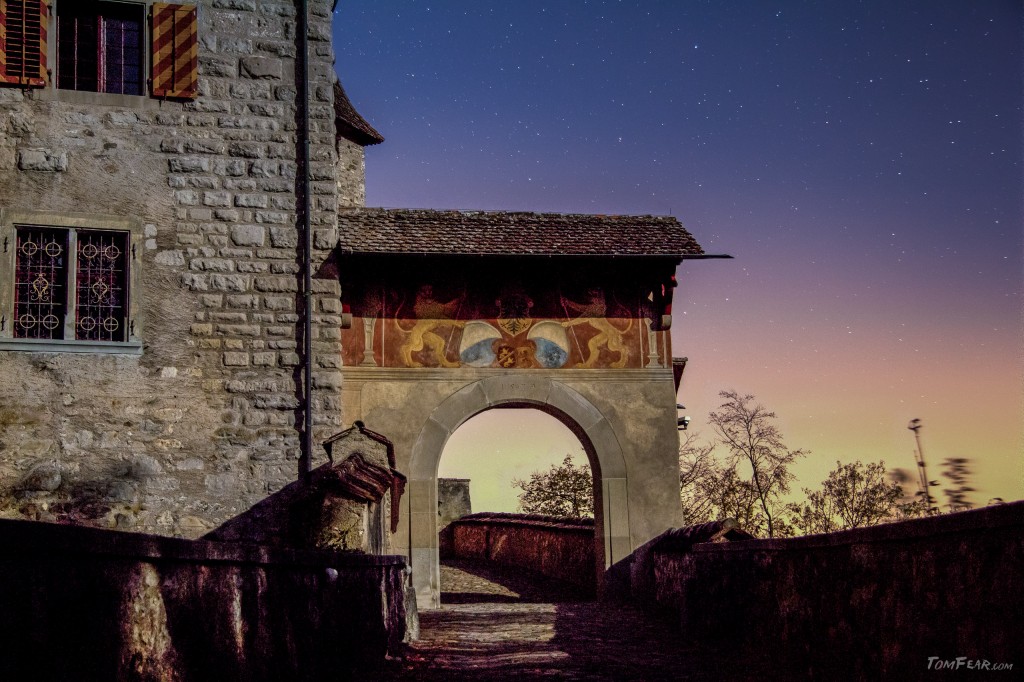 Posted on November 22nd, 2013
On our tour through norway we stayed at the very beautiful Geiranger fjord. At the half way up to the pass at the steep slope, we stopped and enjoyed the awesome sight down to the fjord. On the left part you can see the end of the fjord and the village which gave it the name; Geiranger. It's a breathtaking landscape in this area and I took an image series for this nice panorama picture.

Posted on November 21st, 2013
Sometime when I go walking with my dog, I take my camera with me. It was also a good decision on this day. The sun was near the horizon and produced long shadows and this warm light, which gives you a wonderful tone for the colored foliage. The dog was snooping around and searching his ball, so I had a bit time to take this magic moment into my photon trap. And if you search good enough, you will find little Bubu on the picture.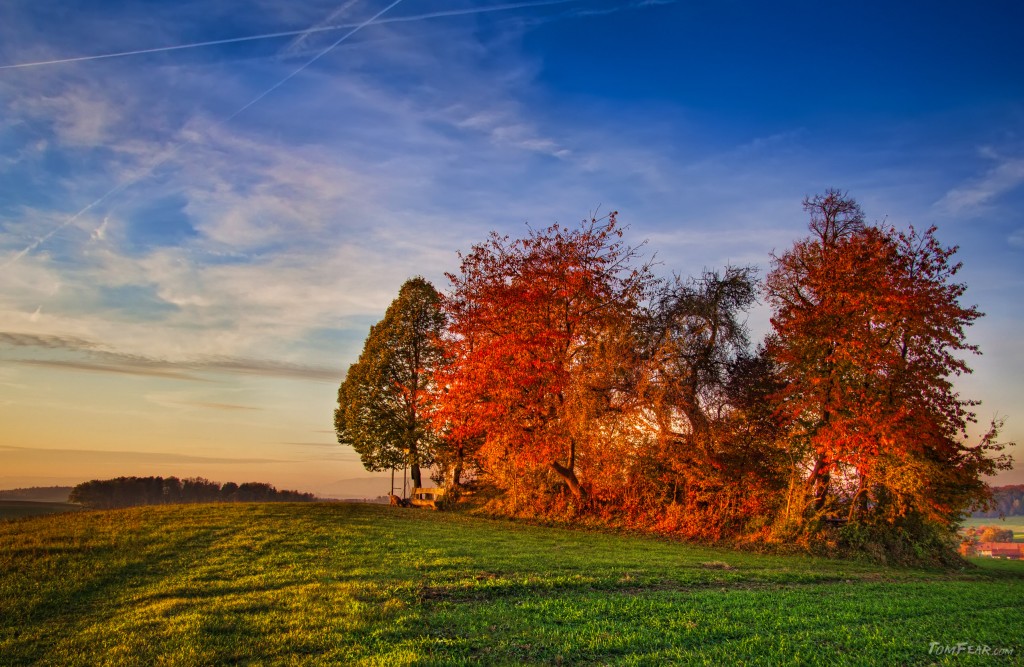 Posted on November 20th, 2013
One very cold day I was walking with my dog and my camera in a beautiful snowbound landsacpe, as I saw a colorful horizont after sunset. So I kneeling down to take an exposure series as my dog exeptionally sitting down and waits for me. Normaly he is nervously snooping around. A small interesting point: it was nearly -20°C and he is a male dog and sitting on his … ouch!