Posted on August 11th, 2014
Tomorrow night from the 12. to the 13. of August it happens again, the meter shower reaches the maximum.
If you want to take some pictures of it, you should looking for an area with less light, set up the camera with a wide angle lens on a tripod and let it work the whole night long. For the best result, you should use an interval timer. The camera catches the most meteors in the direction of Kassiopeia and you should use a shutter speed of 20 to 30 seconds with the biggest aperture your lens has. The ISO numbers should be between 800 and 3200.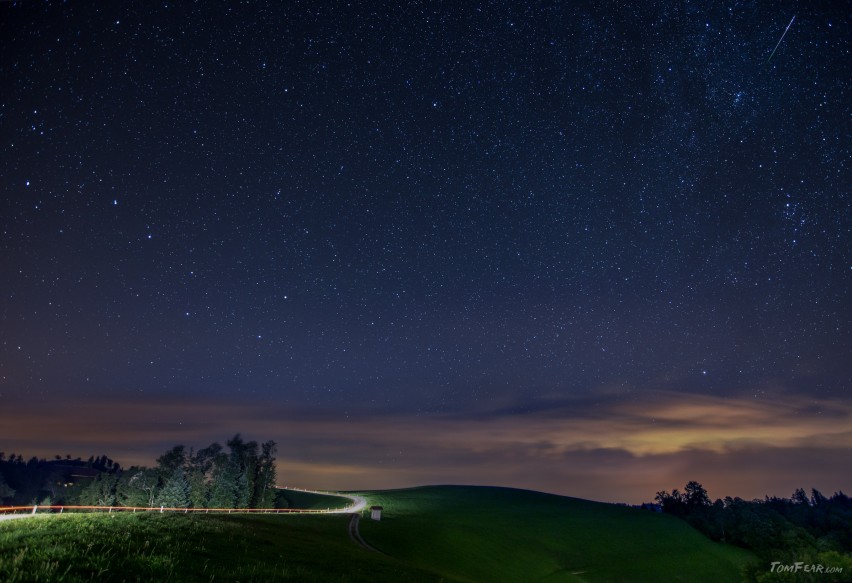 Posted on Juni 5th, 2014
Yesterday I showed you an image about the sightseeing stage. In fact the Trollstigen is not the metal stage but the way up to this awesome view over the valley.
But if the racer in you is activated by this view, be warned, you can forget it! Either there is a bus blocking the street or more worse there is a car driver from a flat country without any experience on a pass.
So happend to me, after I left a hairpin curve, he comes slowly upwards toward me and stopped in the middle of the road. Yes he stopped and waited, because he was afraid of the curve. On a street as wide enough were two busses can crossing, this guy needed the whole street and was blocked by Fear! (hehe). I had no chance and I had to drive backwards through the curve again.
And the moral of the story, forget to enjoy this wonderful pass road, there is always a handicap on the road!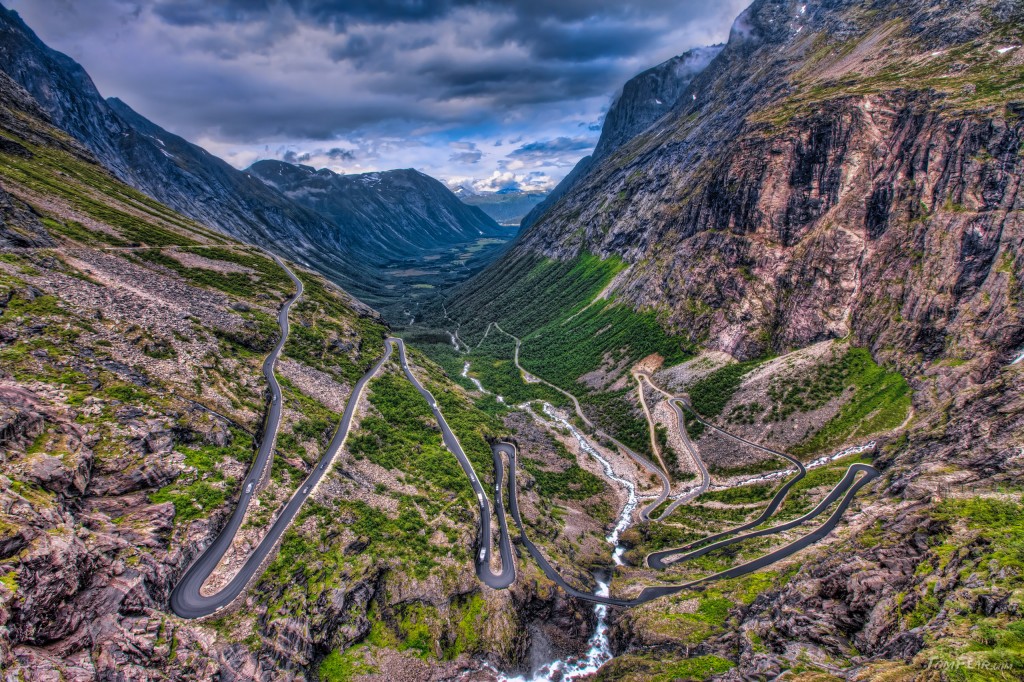 Posted on April 29th, 2014
Look at this! Isn't it cute? It's a nephew of Bubu, you know Bubu my dog. So small and inocent was Bubu too and now? He is bigger and I think he is still a cute dog, until he's running away.
And watch the blue eyes of the little wouwou, they will change it later to another color, this is very interesting. This tiny doggy is only a few weeks old and already so curious to the big wide world.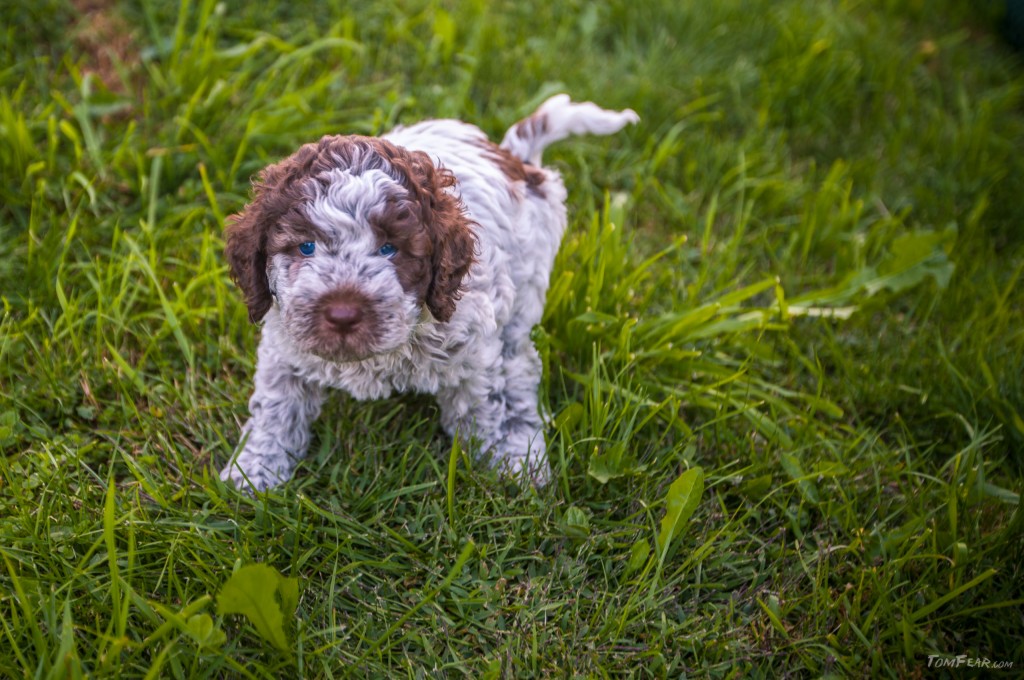 Posted on März 4th, 2014
From time to time I tell you a story of my buddy Bubu. You know Bubu is an italian truffles dog, which doesn't find any truffles. No, it's not his fault, I'm too lazy to  teach him finding truffles. But what he likes is cream. After the cup was clean, he couldn't believe there wasn't any more. I can see it in his eyes, they tells me: "Ey, masta gimmi more of that stuff, this is not all, isn't it?"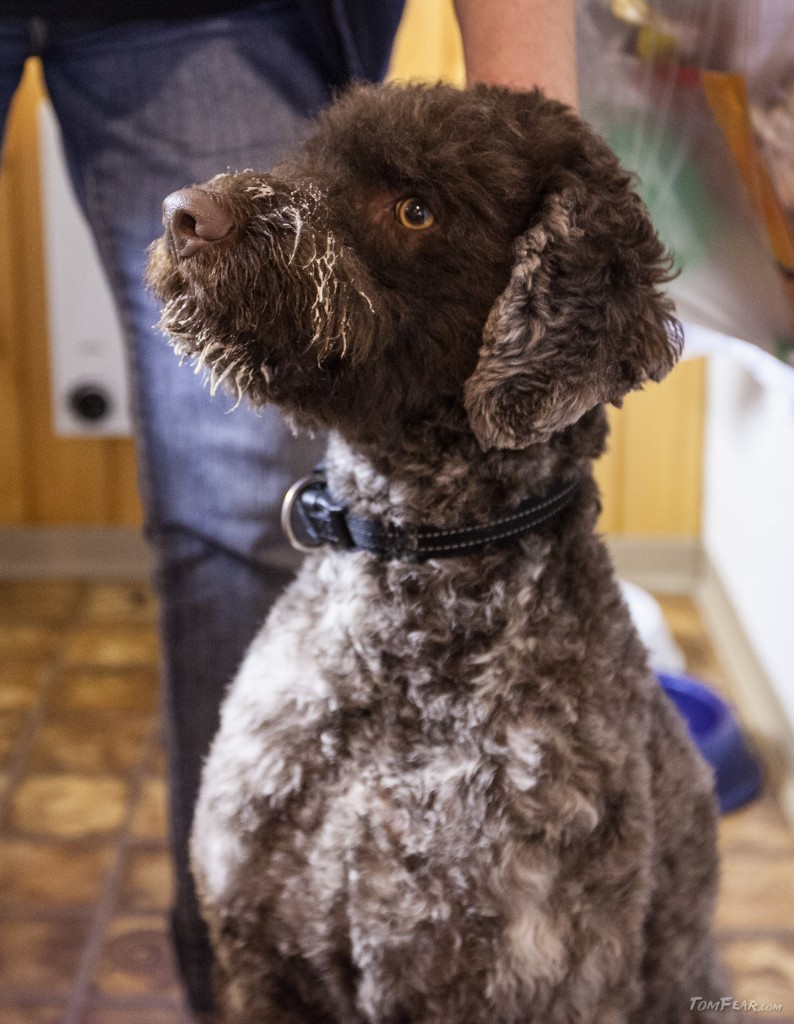 Posted on Januar 6th, 2014
The last time, when I was going to get some deepsky images with my Astrotrac, I turned my lens to the Pleiades. You can see this star cluster by your eyes in the constellation of the bull. The Messier object 45 is 380 light years away from Earth.
I took this image by 6 shots of 110s at f/5.6 with ISO 3200 on 400mm FF, no telescope. For the noise cancellation I used Fitswork as stacking software. And next time, I will also take some darks to eliminate the static noise.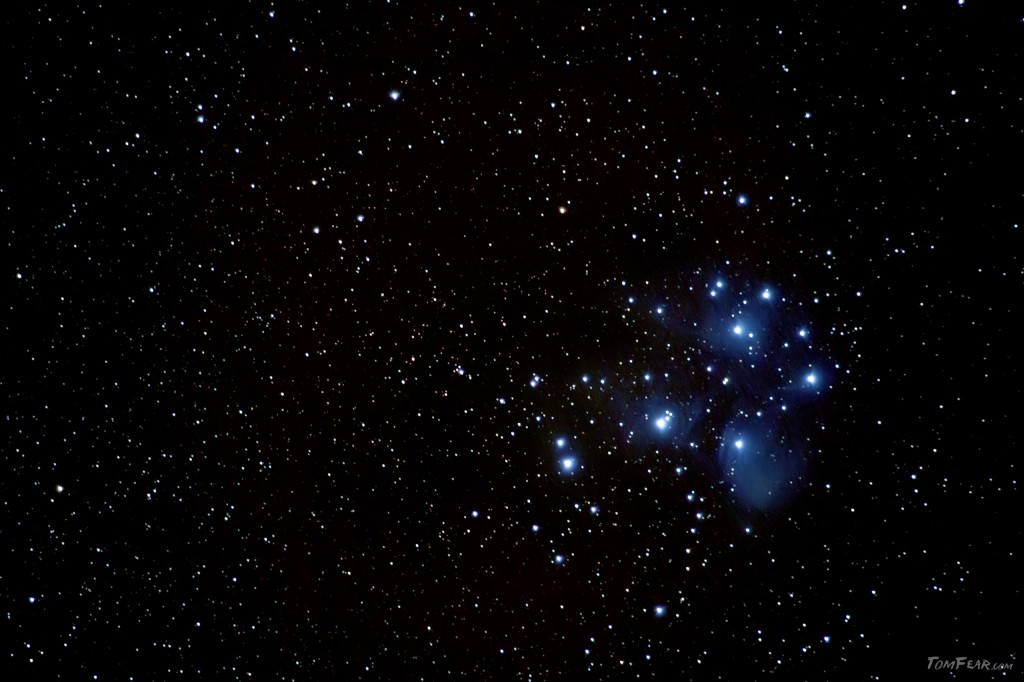 Posted on Januar 5th, 2014
It's allready two years ago as we had the idea of shooting some starscapes in the alps. It should go nearly three weeks until we had some images with stars from this location at Tschappina, but step by step.
The temperature on this image was below -20°C and I forgott my wind jacket at home. I used 4 layers of sweater, luckily there was no wind. I shoot this image right after the sun was down but to late to see the moon rising over the mountains.
Because it was so damn cold, we drove back to the valley, eating something and getting a jacket for the foolish photographer. We want to come back, when it's dark enough to get this exciting sceenery at night. Well, as you can see the weather was the best you can get, at this moment, but after we came back, the fog was cover all what you can see. We walked two hours up to the peak, but the fog was getting thicker and thicker. So we had to go back, teeth grinding, without any nightshots, only with cold hands.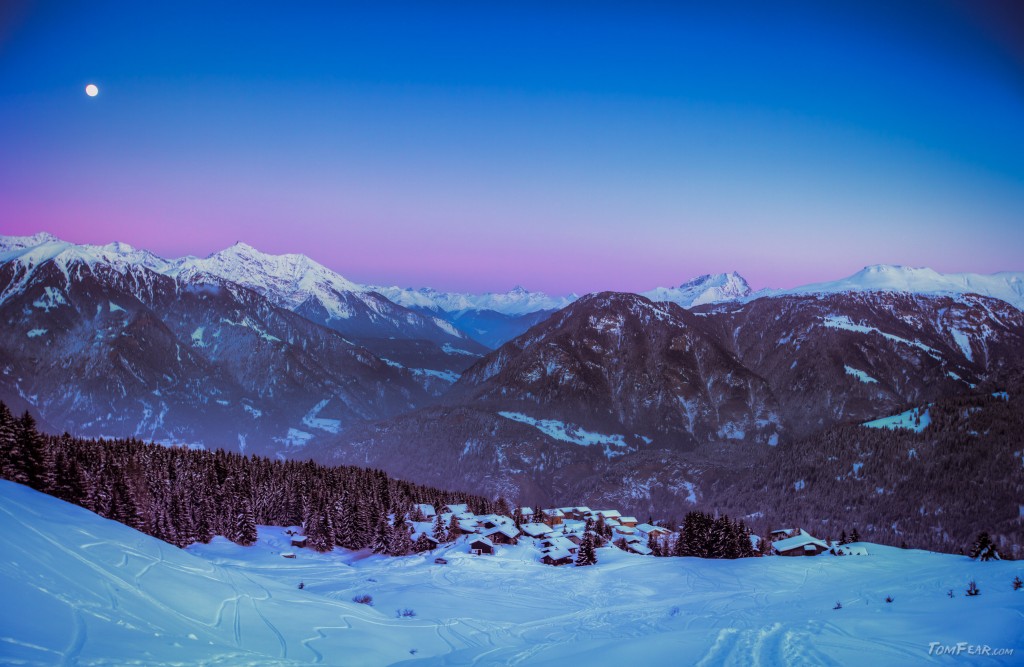 Posted on Januar 4th, 2014
After I saw some breathtaking night images, not the everyone known noisy images, no some very clean colorful starscapes, I was infected. This is what I want to do. Unfortunately nobody knows how to take this kind of images, because the guy doesn't tell anyone how to do this.
That makes me curious and my ambition was awoken. I was made some experiments and going out nightly and I found a way to make better nightshots. Now it was time to improve the technique. After I had more knowledge I was going to more interesting landscapes, like mountains. I was testing other hardware, bodies and lenses. Until it was possible to me, to make night photos in the best possible quality I known.
But this image is the very first shot a took it. It was a bright cloudless full moon night. I shot 24 images for this picture, but I used only 8 of them for this work. It's amazing what I can do know, after so much learning of post processing in the last few years.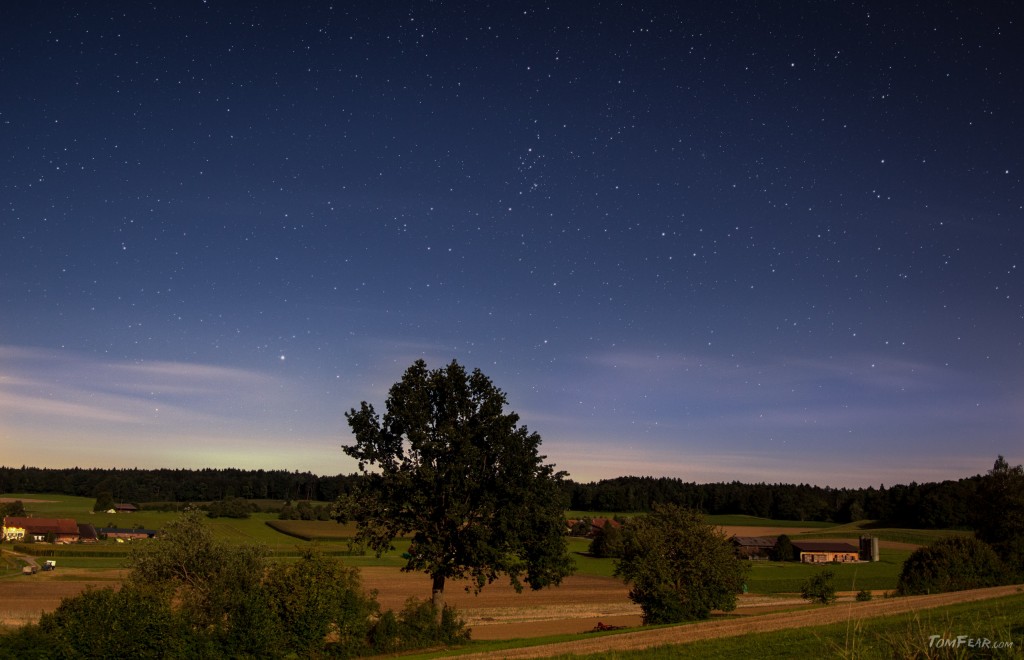 Posted on Januar 3rd, 2014
Some weeks ago, I showed you the same church from the inner part. Now I have a nightshot of the outside view for you. It was at my last stay in Vienna short before christmas. That's the reason for the big light in the upper left corner. I took this shot during my nightly photowalk through the old part of the city. You know how many people there are during the day, stressed for the last gifts for christmas? You can't get a nice shot of the city without hunderts of people on the image, but going at night, especially on sunday night…
This is a HDR image made of 3 images bracket series, with Photomatix, Photoshop, Topaz Adjust and Lightroom.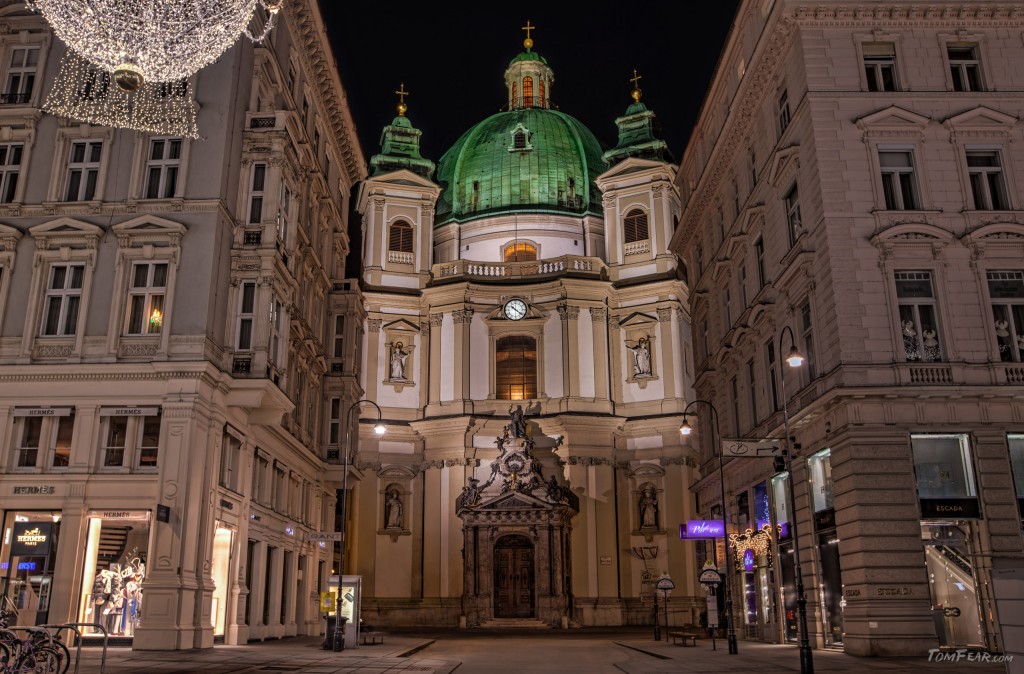 Posted on Januar 2nd, 2014
After all these rainy and foggy days without snow, at least in our region, I need a view to more sun. It's not the hot summer day, but a more friendly late winter day. It was a nice walk around this small lake and I could get some images.
Each time I was walking without a camera on me and see some phantastic lightings, I think to me, why I didn't took the cam with me and my wife, on the other side,  is pleased to see me without a lens.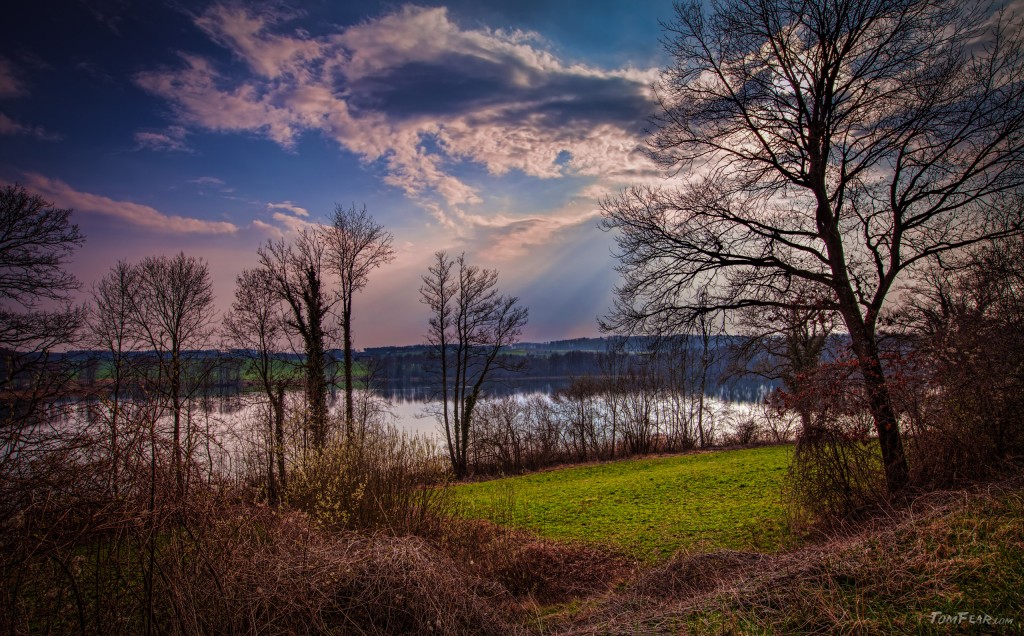 Posted on Januar 1st, 2014
Something's wrong with the clock on the picture.  I can see the shadow of the bar, but it doesn't show the right time. I rechecked it with the EXIF datas, but I can't help me, the shown time is wrong.
Maybe it's because the earth axis has moved or the global warming is the reason. Probably the  medieval people couldn't build exactly working watches, yes this must be the solution. We here in modern times have more knowledge and wisdom. Well good to living in the most important watch building country, Switzerland!
The knowledge about time was placed in my cradle.