Posted on November 9th, 2013
Dal… what? Yes, Dalsnibba :). It's a viewpoint near Geiranger. After you payed 10 bucks you can drive a pass road up to the top of the mountain. And there you have a beautiful sight down to the Geiranger fjord. But this image I had taken to the other side, where you can see the lake Djupvatnet. It's an HDR exposure series of 3 shots with 2EV steps. I like the red flowers in the foreground, which gives the picture more color.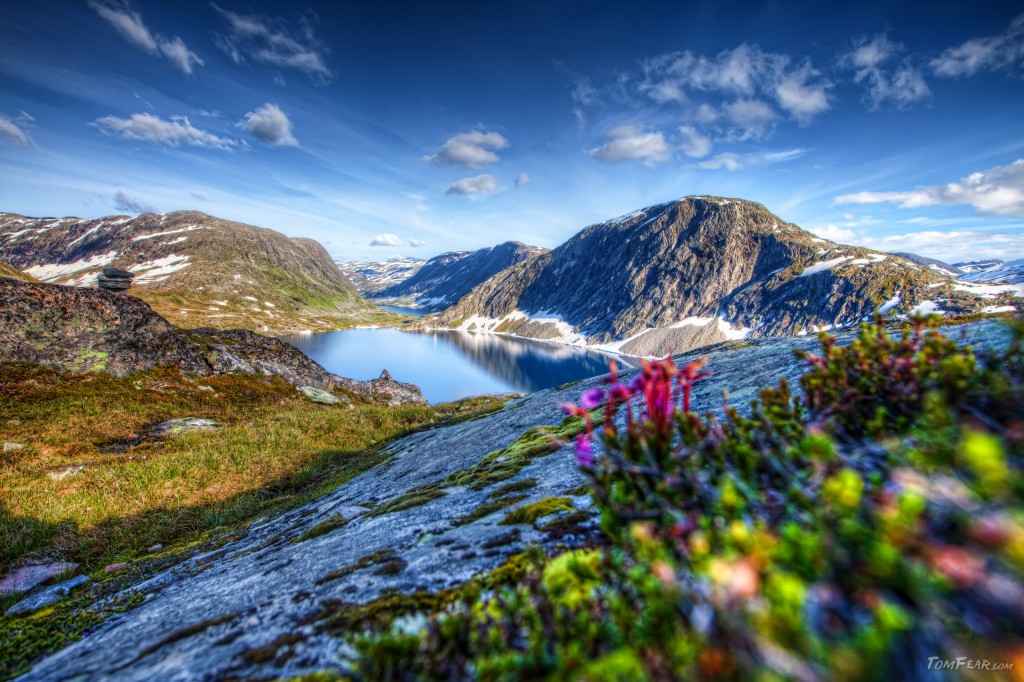 Posted on November 8th, 2013
After a hard working day and tousends of gramms of pollen and milliliters of nectar, the busy bumblebee needs a nap. It founds this soft, well smelling and nice colored flower to take a break.
Uff, this was a stressful day. But what is that? A strange guy is coming holding a giant black box with a enormous big single eye directly in my face? You'll get never a second of silence!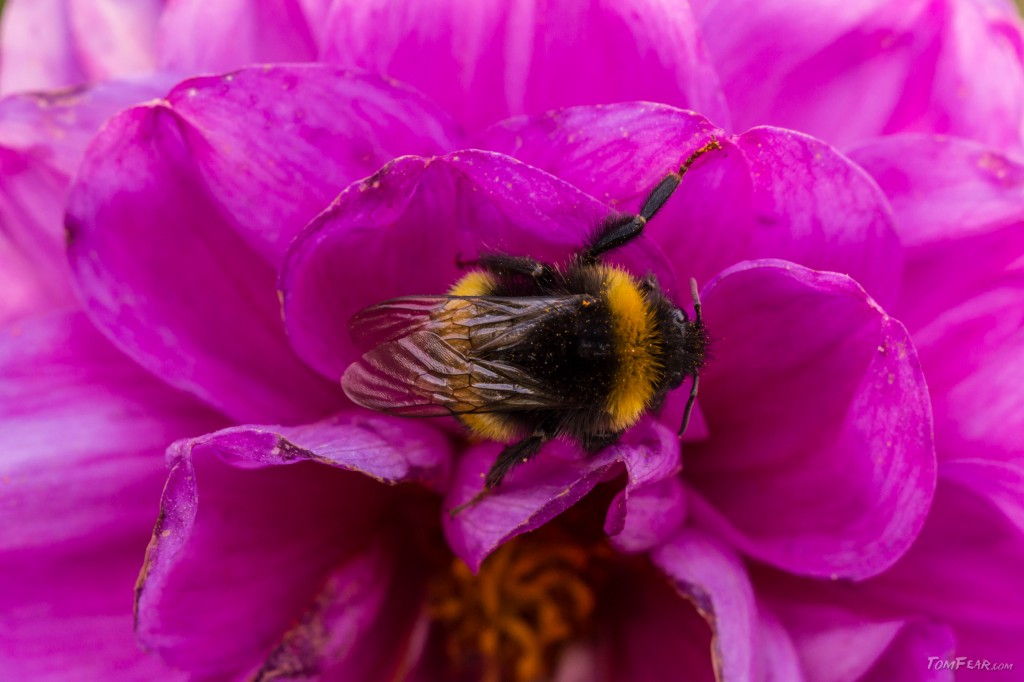 Posted on November 7th, 2013
At a mild summer evening I was walking around with Bubu the dog, as I saw that beautiful heron sitting in the middle of a pond near my home. Ah damn, I forgot my camera at home. When I was back at home I took my cam, tripod and tele lens jumped in the car and drove back to the pond and yes the heron was still stitting there and enjoyed the sun. I build up my tripod and take some shots of that bird. It was posing like a model.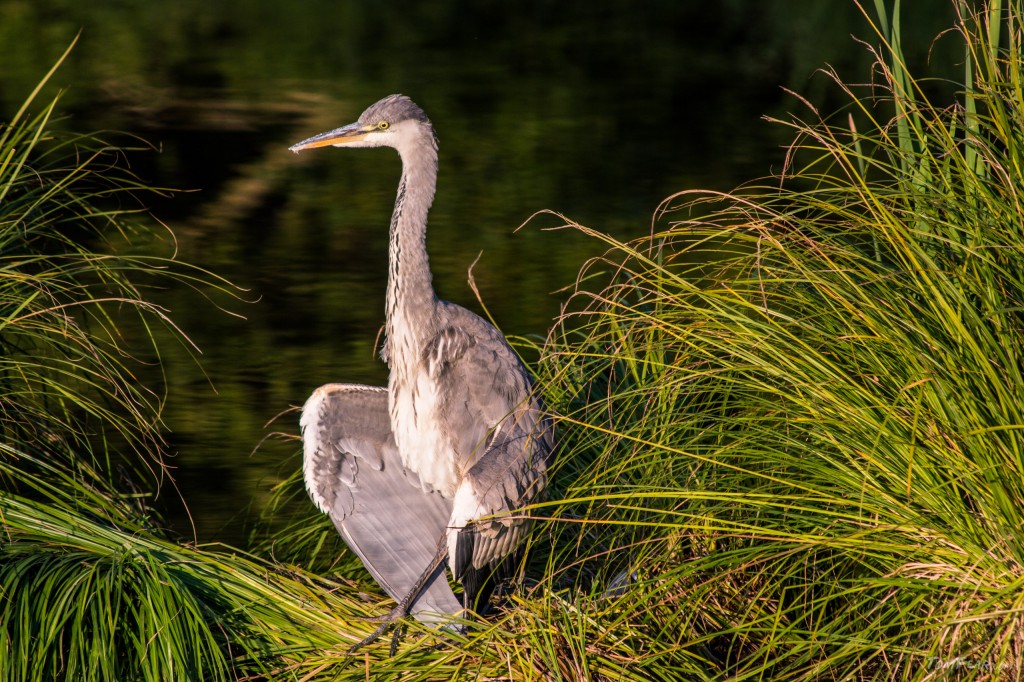 Posted on November 6th, 2013
This is one of my first shot with a DSLR. And I still like the colors in the picture. It's a simple shot without any HDR or something else. I took my 300mm zoom lens and played around to get a nice bokeh in the background. At the moment I shoot the image the sun was already down and the sky was full of colors and with the long focal length and the fucused foreground, the sky becomes to a very smooth background. Nothing especially only an image of a blade of grass at the sunset.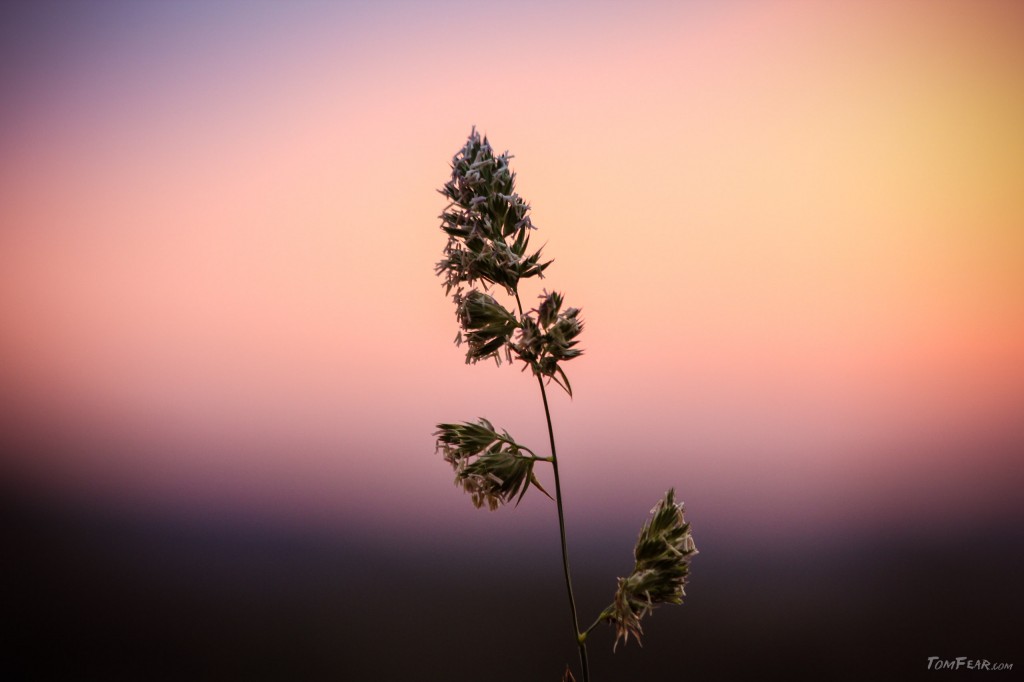 Posted on November 6th, 2013
Yeah, once upon a time in the past, were the autumn was golden and the sun was warm…sigh. Now we have heavy rain here in Switzerland and it gets colder. But hey, this means SNOW! And after the first snow caps the peaks of the mountains, I'm back in business for the next photo session.
I shot this Image last year with my brand new 85mm f1.4 Sigma and I love this lens, it has such a beautiful bokeh.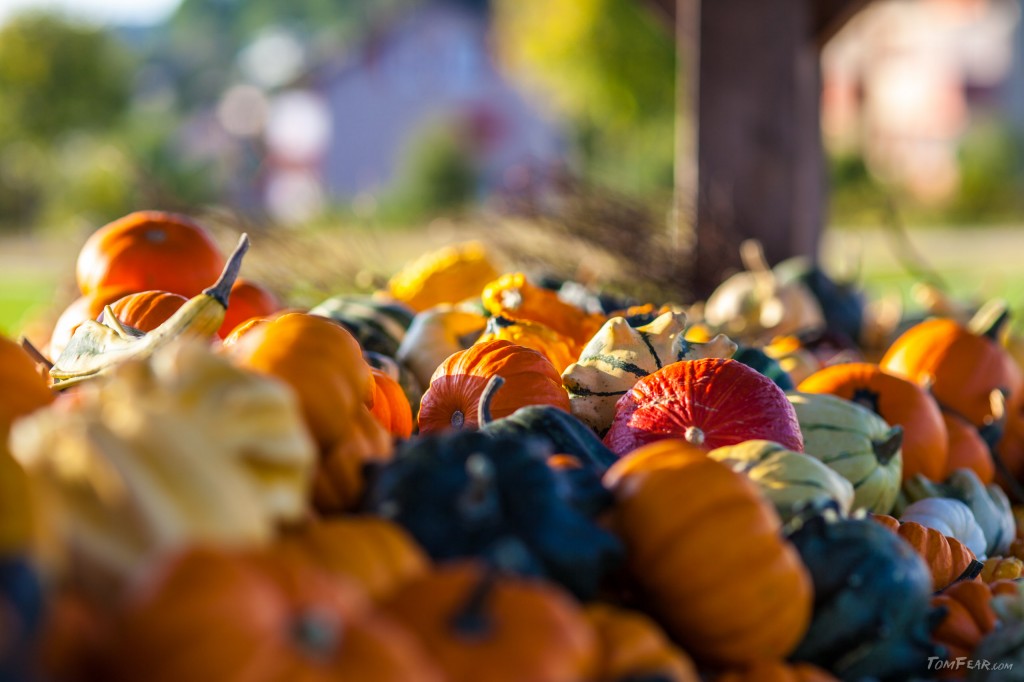 Posted on November 4th, 2013
We were driving around in the Bryce Canyon National Park, as we saw some parked cars at the roadside. And I have learned, if some tourists are watching something in a NP, take a stop and go watching too! I stopped the car, grabbed my cam and looked in the direction were the other people also were watching. First I saw a deer, then I saw another deer. And one deer was hunting the other. What's going on? Ahh, the hunter was male and his victim was female, this guy was horny! Okay, I took my cam and shoot and shoot, until I realized that they are coming straight in my direction. In the last second they took a turn to my left crossed the street and disappeard in the wood.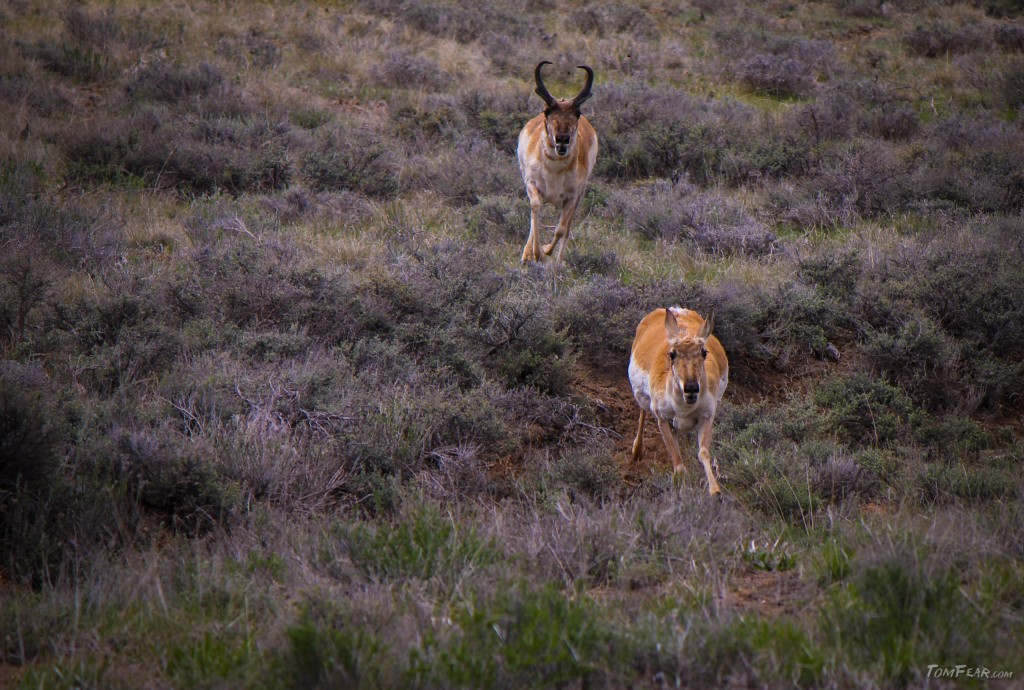 Posted on November 3rd, 2013
On my last trip to San Francicso I took this shot near Alamo Square. I always thought the houses have their name because of the different painted fronts. But after a short reading on Wikipedia, I know now that the name comes from other painted ladies

Okay anyway, this is a very famous subject of San Francisco for photographers and if you get to stay once in the 'Fog City' you should visit this place at Alamo Square.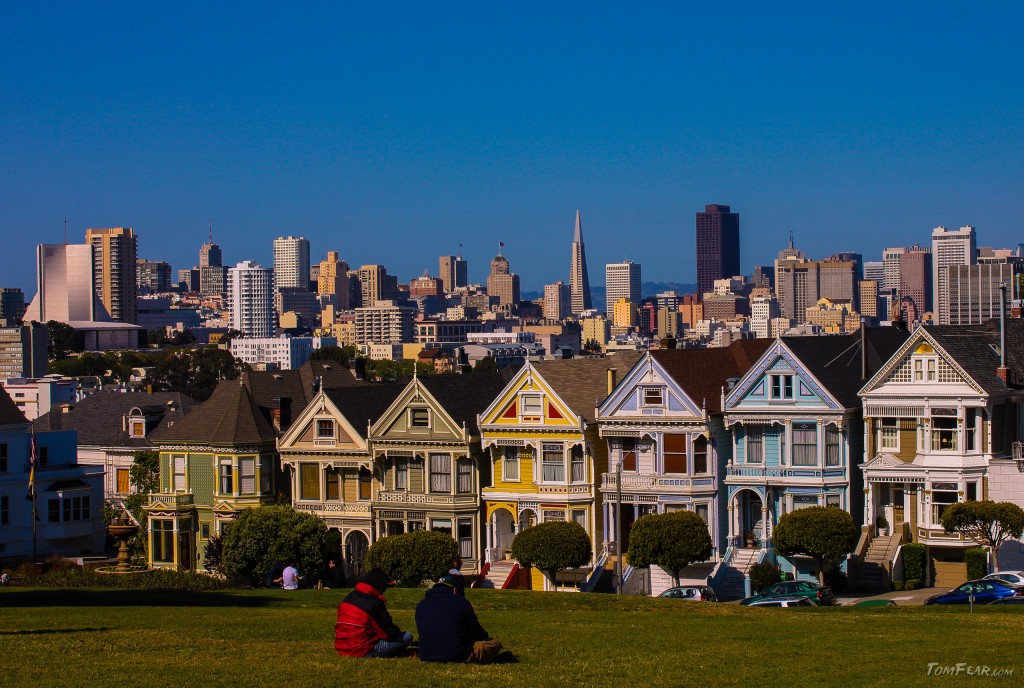 Posted on November 3rd, 2013
To get a good image of the Milky Way in central Europe is very difficult. The light polution is dramatically high. Even in the alps you can see the glow of the civilisation at the horizon. The best way ist to find a place without any bigger settlement in southern direction. After checking a map I decided to take a hike in the Wägital. After a hard way up with my 20kg backpack and building up the tent, was it nearly midnight. But you could see the Milky Way by eye.
I took this picture with my old starscape technique, where I shoot 16 images for a stacking job. This is only to reduce the high ISO noise. Each image by 16mm f2.8 30s at 3200ISO.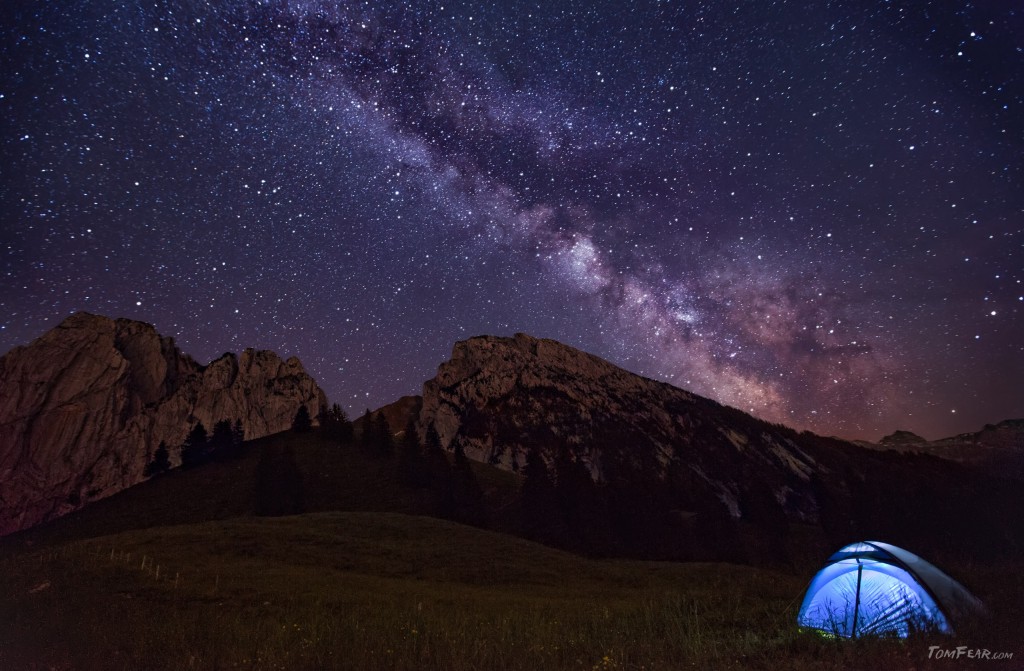 Posted on November 2nd, 2013
This summer in the Tirolean mountains, I catched this flowers with my 100mm Macro. I didn't know how they were called, but with the interessting website alpenblumen.net I found the name: "Taubenkropf – Leimkraut" o_O
I hope the translation in the caption is correct. However I like violet color of the flower and I hope I could spend some pleasure with this image for somebody.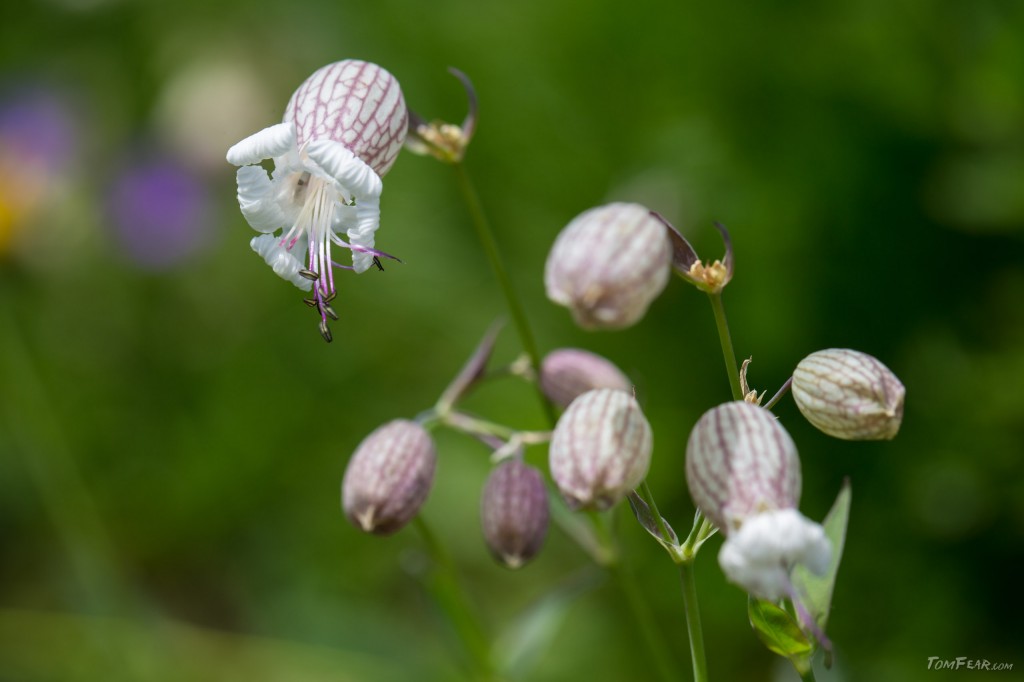 Posted on November 1st, 2013
Short before the sun was down, I could see this fabulous light. It was autumn and the leaves where colored. Some brown and some red and on this tree, the leaves were already red. And the deep sun was boosting up all those marvelous colors – awesome! This image is an HDR out of three exposures.